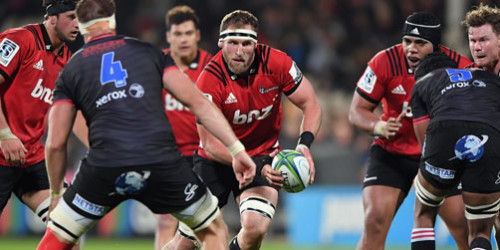 The Crusaders host the Sharks in Christchurch on Friday and then travel to South Africa to play the Bulls in Pretoria and the Stormers in Cape Town.
---
South African rugby writer Jon Cardinelli said in sarugbymag.co.za it had been a strange tournament for South African sides to date because none had shown any consistency either at home or abroad.
"There have been upsets aplenty – who could forget the Lions' stunning success in Hamilton – but no sequence of victories or performances that have threatened the status quo," he said.
The tournament had produced more of the same with New Zealand's dominance.
"The Crusaders remain on track for a third-successive Super Rugby title. Scott Robertson's charges have racked up 39 log points after 10 matches, and are seven points clear of the next-best side [the Hurricanes] in the New Zealand Conference.

ROUND 1?2? | All five New Zealand sides are in action this weekend! Who are you backing? ????#RaiseTheStakes pic.twitter.com/jZWqtH00Sl— Super Rugby (@SuperRugbyNZ) April 28, 2019
"One cannot see another team winning in Christchurch this season.
"The Lions gave it their all last Friday and still got thumped by 26 points. What price does a visiting side – especially one from South Africa – have in a playoff against the red and black juggernaut?" he said.
The next three games were important to South African fans because they would show how big the gap is between the defending champions and others.
"The Lions were handed a lesson at the gainline last week. They struggled to compete against the Crusaders, even though the Kiwis were without several frontline All Blacks.
"The Sharks beat the Blues earlier this year, and may feel like they have a chance in Christchurch after winning there five years ago. The Crusaders have proved that they are a class apart, though, even from their Kiwi counterparts," he said.
The Bulls and Stormers have their own motivations to lift them. While the Bulls had beaten the Crusaders in Pretoria in 2015, they were thumped in 2017 when conceding 10 tries and 62 points.
The Stormers have struggled to get over the Crusaders and last year they let 45 points past in Christchurch, and the year before they conceded 57 points.
The mettle of those sides in responding will be the test of the next few weeks.
"These are the games that will show how far the respective teams have progressed. These are the contests that will reveal which individuals have what it takes to perform in a Test-like environment," he said.
Lest We Forget pic.twitter.com/blAoDkOxjx— Super Rugby (@SuperRugbyNZ) April 27, 2019