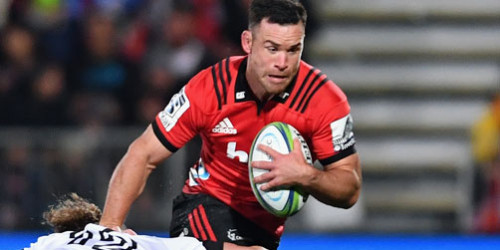 Second five-eighths Ryan Crotty knows how tough it can be in Canberra. His first trip with the Crusaders was to Canberra and while he didn't get on the field he was heckled and abused by the home fans which he said was a real wake-up call for Super Rugby.
"It is a bit different there, they have some pretty fanatical fans but it's a good place and I'm sure we'll find a good coffee spot or two and prepare well for a big game on Saturday.
Crotty said he felt the Crusaders were starting to get some rhythm into their season and there was a lot of competition for spots because players were pushing themselves not only in games but on the training field as well.
Winning did become a bit of a habit so they were hopeful of continuing that by preparing well to the point where the results took care of themselves.
Crotty said the break made by first five-eighths Mike Delany to set up the first try of the game against the Sunwolves last week scored by Crotty had been a sweet moment but it was also a demonstration of what Delany had been like with the group since the pre-season.
"He always steps up, he's a leader and he's a blooming good bloke on and off the football field so it was nice, I only to run from a metre or two out but it was great bit of footwork to show the old Dad's still got it and it's nice to be playing outside him again this week but in saying that Mitch [Hunt] has done a great job and I guess that's indicative of what it's like in our squad at the moment," he said.
Prop Tim Perry said he was enjoying being over injury and starting to get some competitive game time. He had Achilles tendon issues but with treatment it was now feeling good after it had been very painful.
He had been working with fellow prop Owen Franks who had also endured Achilles tendon issues and they had been comparing different methods of care.
The injury was one that played on his mind initially but it was a case of dealing with it and getting over it. To help take his mind off it he went back to farming, or doing some fishing.
During the end of year tour last year he had suffered a hamstring frustration but managed to play through in the game against the French Barbarians to achieve his childhood aim of becoming an All Black.
Given the injury frustrations he had endured over a couple of seasons he felt the dream might be slipping away a little but he got a phone call from the All Blacks, although he thought it was a mate playing a joke on him.
It was something that didn't really hit home until he got back to New Zealand at the end of the tour to let it sink in.
Playing again for the All Blacks was in the back of his mind having had the taste but at the moment he was looking for consistency in his play for the Crusaders in the set piece work and if he could manage that the rest would take care of itself, he said.