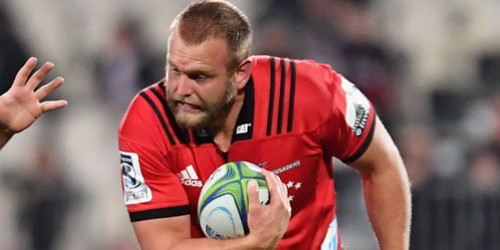 De Bruin started before his side left Johannesburg by asking that the Lions be given a fair deal from match referee Australian Angus Gardner.
Because they were the champions and a high-performing unit across the history of the tournament, the Crusaders seemed to get away with a lot more than other teams, he suggested.
Specific in de Bruin's sights was the hit All Blacks prop Joe Moody made on the left-hand side of the loosehead at scrum time.
Crusaders scrum coach Jason Ryan dismissed de Bruin's claims.
"I've heard it all before and it always comes up just before [a game], usually when we name Joe Moody – just because he is the best in the world," he said.
"We are going up against one of the most penalised tightheads [Ruan Dreyer] in Super Rugby for two years running. We have got our plan, we know what we want to do.
"We just want to hit square, we want to play channel one – that is what we have done all year – and get the ball to the backs.
"All I know is when Joe is at his best, there are not many tighthead props, if any, that can hold him down.
"It is more than just Joe. We have to back that our strength as an eight will be good enough.
"They [the Lions] are scrummaging well, they scrum a lot differently to us.
"They have got a mindset to be destructive clearly and keep the ball at the back of the scrum – and scrum for a penalty. Whereas it is not often something we do. That is their point of difference, and we have our point of difference as well," Ryan said.
De Bruin also said the Lions had learned from their loss to the Crusaders in last year's final at Ellis Park.
"We were disappointed, but we focused straight away. We knew we were going to keep most of the guys for this season.
"This season has had its own trials and tribulations, a lot of injuries at the wrong time, but all those things build massive character, and it's that character that pulled us through," he said.
Captain Warren Whiteley said challenges didn't come much bigger than beating the Crusaders in Christchurch.
"If you look at their results in the past couple of weeks, how they've just constantly improved. Beating the Hurricanes by 20-odd points, yeah, this is why you play the game, for opportunities like this," he said.