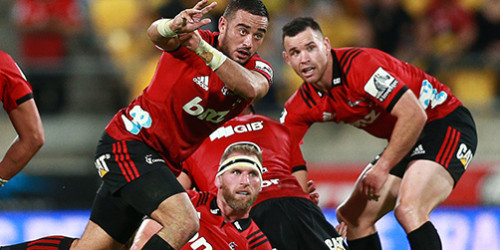 Crusaders assistant coach Brad Mooar said the Brumbies had some big men in their side and a very good set-piece and the Crusaders were conscious of not having been able to mount a complete performance against them in recent years.
---
"We've managed to scrape wins, but they've hung really tough and made it really difficult for us so we've got huge respect for what they bring and they really do play to their strengths and look to bring pressure through their set-piece. I'm sure that's something they'll be looking to do this week as well," he said.
All Blacks captain and No.8 Kieran Read has been included after he suffered a double haematoma in his return game, against the Hurricanes last week, but had recovered well.
Tim Bateman was named at centre with Jack Goodhue having his All Blacks rest period.
Wing Leicester Faingaanuku will make his debut for the side from the bench. He was a player who had worked hard in the squad and deserved his chance with Braydon Ennor was being rested after a heavy workload.
Mooar said he got goosebumps when management were talking about what the squad for this week could look like with Faingaanuku having a chance for his debut. It was great to be in a position to give young players a start.
"This is the first of many to come, [he's] an outstanding athlete and he really deserves his opportunity. It's a great time for him," he said.
Faingaanuku said he was surprised to get his call-up but at the same time he was excited about his chance.
He said he hadn't been frustrated by not playing earlier because he enjoyed being able to rub shoulders with the outside backs each day. The whole team had been welcoming and he felt good coming in to work every day.
"I feel I'm ready. It feels a long way from the Nelson College Hostel where every weekend we used to park up in the common lounge and watch this side go to battle every weekend.
"It was in my wildest dreams to think a few years later I would be in the position they are now and to put on a jersey where legends like Richie McCaw and Dan Carter have come through. It's a great honour and a privilege which I'm looking forward to," he said.
?? HYPE ALERT ?? @CrusadersRugby are back and ready to play for their home fans in Christchurch against the Brumbies this weekend. Will you be there?

? 5.15pm Sat 6 April
??? Christchurch Stadium
??? https://t.co/U772VO0F0E
?? @SkySportNZ
?? #CRUvBRU pic.twitter.com/gvKGIgoXkb— Super Rugby (@SuperRugbyNZ) April 3, 2019