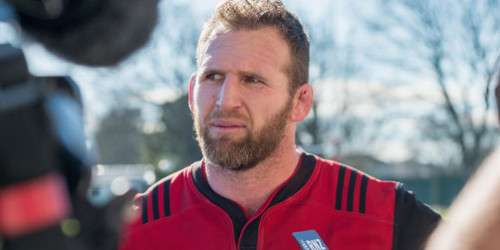 No.8 Kieran Read said reviewing their two previous games against the Hurricanes from earlier in the season had only highlighted the importance of defence and that would be even more the case on Saturday.
---
QUICK TAP: HURRICANES EFFICIENCY CRUCIAL IN SEMIFINAL
---
The Hurricanes would offer some things that were different from the last game they played in Christchurch but the Crusaders would need to be ready to cope with those variations, he said.
Among all Super Rugby rivals the Hurricanes were a side who played to a definite game plan. They used their big men to run with the ball to get drive going and utilise their strengths in the backline.
"We've just got to be aware of what they do and maybe sometimes during the game it is going to come off for them. We've got to scramble really well and hopefully limit their opportunities."
Read said there was plenty of excitement in the side but there were well aware of the challenge ahead.
While his own presence and the return of prop Joe Moody meant the squad was close to full strength, that meant nothing.
It was all about the quality of performance the side could deliver against the Hurricanes.
"That's been the focus all week, keep building and hopefully get a good one on Saturday," he said.

TAYLOR V RICCITELLI | Both hookers have been big runners of the ball over the #SuperRugby season with impressive carries and metres. Who comes out on top tomorrow nights semifinal???#DontMissAThing pic.twitter.com/2OTxSPARGl— Super Rugby (@SuperRugbyNZ) July 26, 2018
"We've got to be prepared for them on their best performance which, certainly in their backline, is devastating. The more pressure we can put on their forward pack and the less quality ball we can give them is going to help us.
"But I expect them to keep building. They played well last week and look to be in some pretty good form," he said.
While the Crusaders would go into the game in good shape and on the back of a successful campaign to date, finals rugby came down to little moments and while it was great to be part of a key game at the end of the season, they would be taking nothing for granted.
"We've just got to step up again and know the tough challenge that is going to be awaiting us," he said.
Coach Scott Robertson said prop Joe Moody had recovered well from his leg injury and possibly could have started last week. In that game Tim Perry had played his best game for the side and that had resulted in the tough decision to leave Wyatt Crockett out of the game, in spite of his 202 appearances for the side.
Wing Seta Tamanivalu had also come through the week well after his head knock.
Robertson was expected a typical Crusaders-Hurricanes game with his side's concentration on coping with containing the potential Hurricanes gamebreakers.
STATCHAT | @crusadersrugby are undefeated in 19 #SuperRugby playoff matches played on home soil. Can @Hurricanesrugby make history in Christchurch?

??? 7.35pm, Saturday 28 July
??? AMI Stadium, CHCH
??? https://t.co/tuG8O2m3Ad
?? @skysportnz
?? #CRUvHUR pic.twitter.com/mLQFRfM1hV— Super Rugby (@SuperRugbyNZ) July 26, 2018