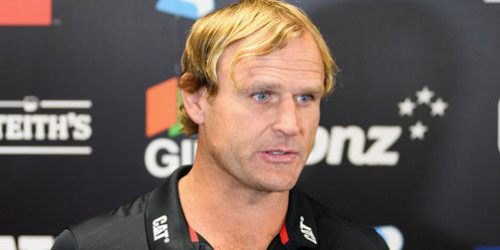 "They're tough. They've been good in a lot of games for a lot of the game. They could have won a lot of games that were really close and obviously got the result last week against the Chiefs. They've got some players that can rip you apart at any moment. They're good," he said.
It's not only the Blues Robertson had to worry about, as there was the effects of returning from South Africa. That was familiar for all sides now but it was accompanied this time by controversy after alleged incidents in Pretoria and Cape Town that were now under review.
Robertson said it had been a tough week because the level of scrutiny was unusual. He said they wanted to get their side of the story out there and the independent inquiry that was underway meant the players could step back and let the facts find their way through.
"We've got two great young men in our group and it has been a tough few days for them and their families and we feel a lot of it is for no reason at all," he said.
"We understand our responsibilities. We've got a great name, a great brand, great people and we've done a lot of good things over the years," he said.
The important thing for the side was to re-emphasise how tight they were and checking that all of the group was okay and how important it was to stay strong, he said.
"It's a different challenge [as a coach]. It's off the field," he said.
It had also demonstrated the power of the media who could take the story where they wanted.
"These things have processes and to stay focused on what we're doing, we're good people and play good rugby," he said.
It was a reminder that issues were potentially around all the time and that needed to be remembered.
He had spoken several times with the two players at the centre of claims, wing George Bridge and first five-eighths Richie Mo'unga. They had been keen to play the Blues and there was no reason why they shouldn't play from the Crusaders point of view and they were comfortable the investigation had started because their side could be represented.
Assessing their South African tour, Robertson said they had secured seven points and while they had drawn with the Stormers last weekend, they were a tough team to beat at home.
They had 13 Springboks and played some good rugby.
"We went ahead with a few minutes to go, what we thought was a try obviously wasn't a try and the rules changed for a while and they were back to how they were and we came away 19-19 and all this stuff came to fruition after we got off the plane. It's been a whirlwind," he said.
With only one training day during the week, on Thursday, it was the crucial day for getting everything right, he said.
Communication from Sanzaar had clarified that the ruling eliminating what could have been the match-winning try was wrong.
All Blacks captain Kieran Read would be using the week as his All Blacks' rest break while also allowing him an extra week to recover from the neck injury that ruled him out of the Stormers game.