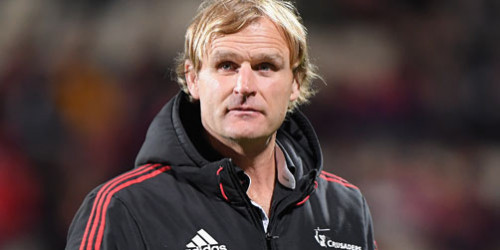 The Highlanders had nothing to lose after being the eighth qualifier and restored to close to full strength they would sense their chance for an upset.
---
QUICK TAP: BEN SMITH BACK TO BOOST HIGHLANDERS
---
Robertson said the Crusaders had come off their bye week refreshed and were looking forward to continuing their rivalry with the Highlanders. Most of the players had opted not to take a break and were in daily to do their exercising and had loaded very well.
"The boys just want to play rugby so they got their week right and are excited about this opportunity," he said.
Robertson hadn't pondered about who the Crusaders, who were the first to qualify, might meet in the quarterfinals, he left that to others.
"We've played them a lot and we know their strengths and they know ours and it's going to be a hell of a contest," he said.
The Highlanders were a better side than their record during the season represented. They had their full squad back, were extremely strong and the Crusaders were well aware of their abilities when they were on, he said.
"There's a lot of care taken in our preparation this week in respect of what they can bring. You slip into eighth and come and play the Crusaders at home in a final and it's a great opportunity for them and we're well aware of their motivations."

?? Check out Sevu Reece's 13 tries so far in 2019. Do you think he can continue this form into the playoffs and break Ben Lam's record of 16 tries in a single season?

? Fri, 7:35pm
?? Orangetheory Stadium, CHCH
?? https://t.co/Ym0u0yeLm5
?? SKY Sport NZ
?? #CRUvHIG pic.twitter.com/fHAMF4UUps— Super Rugby (@SuperRugbyNZ) June 19, 2019
They were at their most dangerous when playing with freedom and they had an opportunity to score the most important win of their season if able to claim the Crusaders' scalp.
Having hooker Codie Taylor and prop Owen Franks back from their injuries was good for the side. They were both ready to go and could have played in the bye week, he said.
"Giving them an extra week is great timing, they've been training well and they are keen," he said.
It was important to regain the pair because the Highlanders scrum was strong.
There had been some tough calls made in the selection but he felt Braydon Ennor had been unlucky to miss out on the starting XV but that was down to what Jack Goodhue and George Bridge had to offer.
Highlanders' captain Ben Smith's presence would bring a lot to their side, he was a world-class player and like halfback Aaron Smith, he was a player who had to be watched when chances were on.
"We understand his strengths and what he can add to the team," he said.
We have 4? New Zealand teams in the #SuperRugby playoffs! Will you be part of the action at the stadium, or watching live on @skysportnz? #RaiseTheStakes pic.twitter.com/PG0kQZxz07— Super Rugby (@SuperRugbyNZ) June 18, 2019