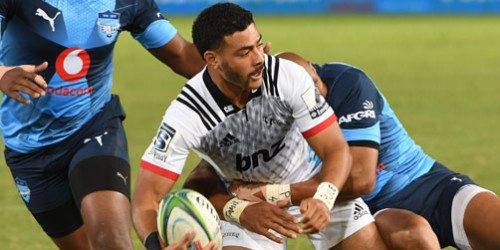 Coach Scott Robertson said with their traditional fan base in Cape Town, the Cape Crusaders, they were looking forward to building on their effort on the high veldt on Friday.
---
Robertson said the Crusaders enjoyed the challenge of playing in the rarefied air of Pretoria. It was different weather to what they had back home at this time of year.
"We wanted to make sure we run, and run hard and enjoy that taste in the back of your throat, the light air. We got a good lead on the Bulls and you need to do that," he said.
"They were big men. You could see last week when the Sharks slowed us down and frustrated us and took it to a set-piece game and slowed that down as well, we couldn't get any momentum and today we did. We had a great week of travel and enjoyed it."

ROUND 1?4? | Fourteen out of fifteen teams can still make the #SuperRugby playoffs! Who would've predicted this? Let us know your picks for this week. ??#RaiseTheStakes pic.twitter.com/bDG1YcKZWT— Super Rugby (@SuperRugbyNZ) May 12, 2019
While the Crusaders were dominating the competition, Robertson said they were taking nothing for granted. A couple of injuries could potentially change the course of the season so it was necessary to keep on with developing the depth, working on player rotation, keeping growing the side's game and getting better in different areas.
"We know the Hurricanes are right there as well and keeping us honest," he said.
Captain Matt Todd said it had been a physical battle but they felt they had a good plan going into the game and the side had stuck to it and executed it well.
"Every time you come here you know it is going to be a challenge. Physically you're going to be tested but that challenge excites the boys. You say we've got a great record up here but that's why. We had a good week's prep [preparation] and it's pleasing when you can put that prep into a good performance," he said.
First five-eighths Richie Mo'unga had been influential to the outcome. He made great decisions and could make something out of nothing.
"You give him half a chance and he'll take it and as a forward it is great to get up from a ruck and see him making a line break and making metres and it's great to play alongside him," he said.
Robertson said an element of their win had been improved kicking as they had reviewed their draw with the Sharks and had seen there had been space and they hadn't taken it but they had changed that against the Bulls.
It was a part of their game they were looking to grow and the kicking from hand had been 'beautiful', Robertson said.
Assistant coach Ronan O'Gara was responsible for that area and every time a kick worked he had been more excited than when they were scoring tries, he said.
"He's passionate about it and he's done a great job with the boys," Robertson said.
Bulls coach Pote Human said: "We know we are better than this. This just was not good enough. If you miss one-on-one tackles against these guys, you are going to be standing behind your posts. That was really disappointing."
Captain and first five-eighths Handre Pollard said the Crusaders' counter-attacking ability had made it difficult for the Bulls to adjust their kicking game.
"We kicked a bit longer in the beginning because they tend to run back quite a bit. But then you are putting all your chips on your defence. That is where the problem came, missing our one-on-one tackles. It is hard to recover from that.
"Then we went back to contestable kicks, but we couldn't get into the air. There were a lot of small things building up to it. It looks like we were just kicking possession away, but it actually wasn't," he said.
Mo'unga Magic! ?#BULvCRU pic.twitter.com/XkL3RuzJ0J— Super Rugby (@SuperRugbyNZ) May 10, 2019