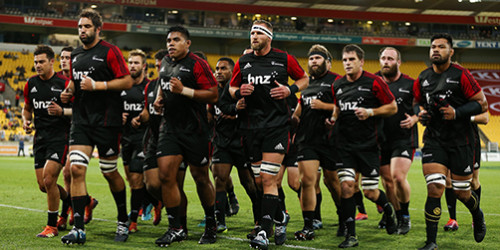 Flanker Matt Todd said it was disappointing to lose Crotty and Barrett but there was a trust in the complete squad. Everyone had been given opportunities to play during the year and they had performed.
---
QUICK TAP: MATCH OFFICIALS CONFIRMED FOR SUPER RUGBY FINAL
---
"I guess you plan for that all year, you never know who may go down at crucial times, we trust the squad and we will do that this weekend," he said.
"It's an exciting week, it's a week you work all year for," he said.
There were sore bodies after the Hurricanes encounter but the medical and coaching team had developed a plan aimed at ensuring the players had full tanks of energy for the weekend.
"We'll build nicely for the first couple of days of the week and ramp it up a little on Thursday but by then we should be well recovered and ready for another big battle," he said.
The Jaguares had posted an impressive season and won 10 of their last 11 games and were in good form.
"The amount of travel that is thrown at them, they deal with that and produce quality football so it's a massive task for us this weekend but at the same time we're excited by it, we're at home for a final and we're just looking forward to the battle," he said.
They were a different side from the New Zealand teams they had played in the first two weeks of the playoffs but they had looked hard at them during the week and they were confident they had a good plan for them.
"But, I guess it is about executing that plan," he said.

?? Have you ever seen a team more pumped up for finals footy than @JaguaresARG? #CRUvJAG pic.twitter.com/GjVCz6SEEQ— Super Rugby (@SuperRugbyNZ) July 2, 2019
The challenge for the Crusaders would be to not allow the game to get too loose. They needed to control as much as they could but also be able to cope with whatever the Jaguares brought to the game.
"You can have the best plan that you want but if it goes out the window you've got to be able to adjust so I guess that's what we're focusing on," he said.
The Jaguares were a good side at the breakdown, an area Todd said the Crusaders hadn't been at their best in recent weeks, while they were also great off turnover ball and kicked ball.
"They've got that flair and they can hurt you from anywhere, we've just got to stay on the whole time, we can't relax," he said.
They were also one of the fastest teams at clearing ball and it would be a case of finding ways to limit their speed of ball because once they got a roll on they were hard to stop because they were big, skilful men.
While there would be player movements after the game, and Todd said he hoped his own future was sorted soon, it wasn't a case of being wound up to ensure a good send off for players.
It was a final and that was motivation enough and the game was about enjoying the last time the side would be together.
???? Will we see this again on Saturday night?

Grab your tickets to the #SuperRugby final here ???? https://t.co/gNdL2MG1A3 pic.twitter.com/pjvopgjQyr— Super Rugby (@SuperRugbyNZ) July 2, 2019