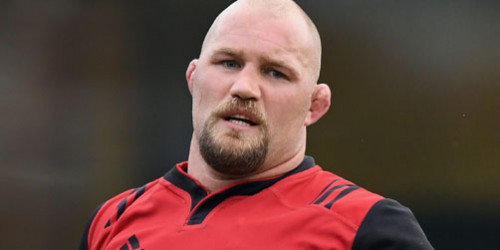 Thoughts of their only other win over the Highlanders this year, when winning 43-17 in Christchurch – their first game was abandoned after the mosque massacres – have been discarded.
---
QUICK TAP: GRASPING THEIR CHANCE IS HIGHLANDERS' GOAL
---
Forward coach Jason Ryan said: "One thing with Super Rugby, all you do is put yourself into a position to play in a final. We've done that. Now, you've just got to be the best team for three weeks," he said.
"We know against the Highlanders we're going to have to change gears and ramp things up a lot more. We've talked a lot as a forward pack of changing gears. We have to," he said.
Having been able to sit back and watch developments as the playoffs picture became clearer due to their bye at the weekend, the Crusaders' coaching team got to work on Sunday to put their effort into reviewing the Highlanders.
"There's a lot of respect for the Highlanders as a playing group both on and off the field and I think as a coaching group as well there is a lot of respect.
"I know the Crusaders and Highlanders games are always just absolute classics. We talked about that this morning, we've got a lot of respect for them, the players and the coaches. We all get on good off the field, but come kickoff there will be no love lost," Ryan said.

QUARTERFINALS | Breathtaking final round! Against all odds, the @Highlanders and @ChiefsRugby have snuck into the playoffs! Who are you backing to make the semifinals? ??#RaiseTheStakes pic.twitter.com/CcaTA5Filt— Super Rugby (@SuperRugbyNZ) June 16, 2019
There might be some extra spice about the quarterfinal as both teams would be at full strength and that was exactly what was wanted in the one-off nature of finals football.
Ryan said All Blacks tighthead prop Owen Franks had put in the hard work to get himself ready after his shoulder injury and only needed to complete a full training week to enter the selection consideration.
Hooker Codie Taylor had recovered from his broken finger and also only needed to get through the week's training.
If both Franks and Taylor came through, it would give the Crusaders their first chance this season to field their All Blacks front row of Joe Moody, Taylor and Franks.
Having gone through a patch late in the season where they were penalised more than usual at scrum time, Ryan said the frustrating thing with that had been the penalties were for different things. He was confident with reinforcements back in the side they had tidied up the areas of concern.
The only player not considered from the squad, apart from those with season-ending injuries flanker Tom Sanders and wing Manasa Mataele, was halfback Ere Enari, who suffered a medial ligament injury in his knee against the Rebels. They have replaced him with Jack Stratton.
Ryan said Highlanders flanker Liam Squire had been impressive in his return. He was a big, ball-carrying blindside flanker and had some rhythm going while there was also a chance fullback Ben Smith could be back as well.
Congratulations to Sevu Reece for being crowned the @SuperRugbyNZ Rookie of the Year!

READ MORE ?? https://t.co/gYY2DPpDK9 pic.twitter.com/P0bW4Cx4O5— Super Rugby (@SuperRugbyNZ) June 17, 2019