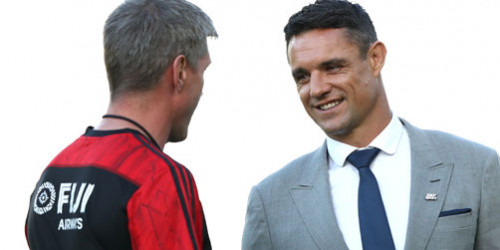 That's the view of Carter's former rival, and coach, at Racing, Ronan O'Gara caught up with him at Eden Park last week before the Blues-Crusaders Super Rugby game.
---
Carter got the call last week to help his old club out with Lambie having been forced out of the game due to concussion and Russell being forced from the field with concussion during the last round of Six Nations games.
O'Gara, who is an assistant coach with the Crusaders, said Carter was in 'remarkable nick', in his column in the Irish Examiner.
"The Crusaders' Matt Todd and Tim Bateman had seen him performing up close in Japan and reckoned his speed mechanics are better now than ever. He's had an MVP championship-winning season with the Kobe Steelers, and Jacky Lorenzetti, the owner of Racing 92, has acted fast to get Carter as a medical wildcard for the rest of the Top 14 campaign in France. Smart move," O'Gara said.
"Dan's a god with a ball. A freak, running in tries from 45m at nearly 37 years of age.
"He's an animal to train. If he can keep his body going, he will be an important asset for my old club in Paris," he said.

?? PODCAST | Attention all fitness fanatics and rugby fans! Get the lowdown on what makes the All Blacks one of the fittest teams on the planet with All Blacks Strength and Conditioning Coach Dr Nic Gill.

LISTEN ???? https://t.co/rSeJZ9OKaM pic.twitter.com/iHNbIE4Yfg— All Blacks (@AllBlacks) February 12, 2019
Once Russell recovered it would create an interesting situation for the club, and for Russell knowing there was a player of Carter's ability sitting on the bench, he said.
"Carter is Mike Tyson, a giant presence, and one you'd rather have in your corner than in the opposite one. Racing entertain Toulouse again in the Heinken Cup quarterfinal at the end of next month, by which time Dan will be up to speed. His return is necessary. It's been a while since Racing were outside the top six," he said.
Meanwhile, O'Gara said there was no talk at the Crusaders about who might be the next All Blacks coach or the Rugby World Cup.
"It's funny how irrelevant and abstract these issues seem when you are part of a day-to-day process. No one here thinks of the Super Rugby climax or the World Cup, much less who's in charge afterwards. You get better or you get beaten, is the Crusaders mantra.
"Players and coach think in the here and now," he said.
NEWS | Powerful loose forward Liam Squire will leave New Zealand at the end of the 2019 season.

READ ?? https://t.co/L58sd9IaWj pic.twitter.com/XZ2jzop5zt— All Blacks (@AllBlacks) February 18, 2019