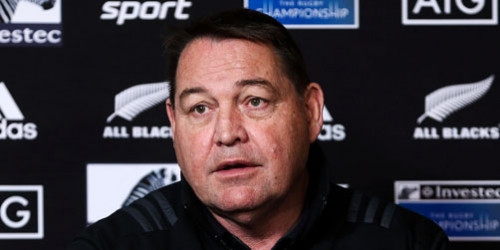 The 34-36 loss suffered at South Africa's hands in Wellington had reenergised the All Blacks and coach Steve Hansen said in many ways the loss had benefited the side.
"These are Test matches that you live for," he said.
---
"They have never been anything other than a great opportunity to enjoy rugby for what it is. South Africa is one of the teams we respect the most because of our history and history is important to any team and it's something that we have a really good understanding of.
"We get on well with them, they're good sportsmen win, lose or draw. We enjoy each other's company and this weekend is going to be nothing but the same," he said.
There were no preconceptions or sense of entitlement about the side, any success would still be based on hard work.
"We've got to earn the right to win this game by playing some really good rugby and we know what we are going to get. I don't see it changing too much from Wellington; they'll be in our face, they'll be passionate and they'll go the whole 80 and there's going to be quite a lot of pain from the lung point of view I suggest for both sides.
"For a long time I think they have been a good side without having that self-belief, I think they're starting to get it which makes them really dangerous," he said.
The win in Wellington immediately saw South Africans looking ahead to next year's World Cup in a more positive vein. Hansen said the effect of South Africa's continued growth on the World Cup would be that there would be two sides going to the World Cup to meet in pool play with self-belief and that would ensure a massive game, he said.
As a result it was important the All Blacks didn't lose confidence and South Africa didn't get more of it, he said.
He was confident in the side's defensive system, they had missed only eight tackles in the Wellington loss.
"There were one or two system errors that we have looked at and again a lot of understanding of how to play a game when you've got a team that's looking to put the pressure on as South Africa are," he said.
The All Blacks' response had been working towards how to put pressure back on South Africa rather than looking at their own defensive system.
Captain Kieran Read is back to lead the side, and while he hadn't travelled to Argentina, because of the strain it would have put on his back after his earlier surgery, Hansen was confident he was ready and had also learned from the Wellington loss.
Hansen said Read hadn't had much adversity as captain, he'd won most of his games as captain.
"It's been good for us, how good, we'll see on Saturday. If you keep winning all the time, as much as you try hard not to, you do sub-consciously miss a few things and that's what we found. Under the pump we got individualistic and we made some poor decisions.
"So that's my fault as the top guy not making sure we're put under the pump and understanding what those situations have got to be like when we're in them. We all take responsibility for it and get on with it," he said.

ON THIS DAY | In 2013 the #AllBlacks played an absolute thriller against the Springboks in Johannesburg, coming away with a 38 - 27 win. What are your predictions for this weekend's match? ????????#RSAvNZL pic.twitter.com/np1I6e95lx— All Blacks (@AllBlacks) October 4, 2018
Blindside flanker Shannon Frizell had confirmed what the selectors had seen in him and he wasn't the finished product.
"He's green and raw and quite exciting. He's a very fast learner, both he and Jackson [Hemopo] actually have impressed me on how quickly they have picked things up but by no means is he the finished article but we're really happy with how he's going."
Centre Jack Goodhue was a consistent player, strong and very mature for such a young man and he understood the game well.
"He's a classic centre in that he can find space for other people and he's a good defender," he said.
ICYMI | Here is your #AllBlacks 23 to take on the Springboks this weekend.

FULL STORY ?? https://t.co/yRKjtVX0we #RSAvNZL pic.twitter.com/QJGaD2mZgG— All Blacks (@AllBlacks) October 4, 2018