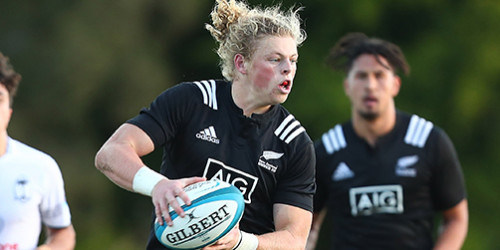 The All Blacks Sevens team is;

1. Scott Curry (co-captain)
2. Luke Masirewa
3. Tone Ng Shiu
4. Ngarohi McGarvey Black
5. Dylan Collier
6. Akuila Rokolisoa
7. Sam Dickson
8. Andrew Knewstubb
9. Regan Ware
10. Scott Gregory
11. Jona Nareki
12. Sione Molia (co-captain)
*Amanaki Nicole is the travelling reserve.
Northland's Scott Gregory will make his World Series debut in the black jersey this weekend, after his first hit out with the All Blacks Sevens at the Oceania Sevens earlier this month.
"Scott has only been in our environment a short time, but he has proved to be a quick learner and we are excited to see what he will achieve on the field. He's already had an impressive year with New Zealand Under 20s and a strong Mitre 10 Cup campaign, he's looking forward to this next opportunity."
Sione Molia will join Scott Curry as co-captains for the tournament, with Tim Mikkelson in New Zealand awaiting the arrival of his first child.
---
QUICK TAP: BLACK FERNS SEVENS TEAM NAMED FOR DUBAI
---
"Having co-captains worked really well for us last season so with Timmy out it provides another opportunity for Sione to step up and show his leadership skills. He is already a valued leader in our environment and we know he will work well alongside Scott in this role."
New Zealand face Wales, Spain and USA in pool play and know a strong start is important.
"We can't stress enough how tough the series is going to be with Olympic Qualification on the line. Every tournament is important which means every time you step on the field you have to be ready," said Laidlaw.
Kurt Baker had originally travelled with the team but returned to New Zealand with a calf injury earlier this week.
The countdown is on until the Men's @WorldRugby7s Series begins, and here's what awaits the #AllBlacks7s:

FRIDAY:
6.22pm NZT v Wales ??????????????
9.22pm NZT v Spain ????

SATURDAY:
3.22am NZT v USA ????#Dubai7s pic.twitter.com/gV32mREmlU— All Blacks Sevens (@AllBlacks7s) November 28, 2018
Schedule:
Day One – Friday 30 November
9.22am v Wales (6.22pm Friday NZT)
12.22pm v Spain (9.22pm Friday NZT)
6.22pm v USA (3.22am Saturday NZT)
Day Two – Saturday 1 December
Play offs

Broadcast
Watch the HSBC Dubai Sevens on Sky Sports 1.

2017/2018 Schedule
HSBC World Rugby Sevens Series, 30 November - 1 December, Dubai
HSBC World Rugby Sevens Series, 8-9 December, Cape Town
HSBC World Rugby Sevens Series, 26-17 January, Hamilton
HSBC World Rugby Sevens Series, 2-3 February, Sydney
HSBC World Rugby Sevens Series, 1-3 March, Las Vegas
HSBC World Rugby Sevens Series, 9-10 March, Vancouver
HSBC World Rugby Sevens Series, 5-7 April, Hong Kong
HSBC World Rugby Sevens Series, 13-14 April, Singapore
HSBC World Rugby Sevens Series, 25-26 May, London
HSBC World Rugby Sevens Series, 1-2 June, Paris
We know who the #BlackFerns7s are voting for, but what about you ?????

Vote for Kelly Brazier HERE ??https://t.co/9YBkWsGiGT pic.twitter.com/iUIPjohBEC— Black Ferns (@BlackFerns) November 28, 2018