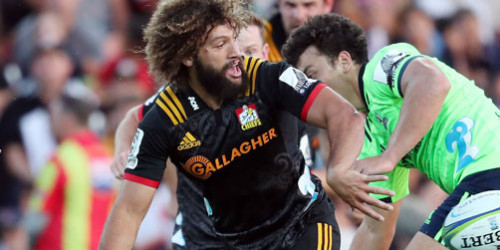 Reviewing Friday's 27-30 loss to the Highlanders, Cooper said decision-making, fatigue and leadership had been factors in the last 20 minutes that contributed to the Chiefs' loss and it was disappointing they let five points that were in the bag slip away.
By comparison, the Highlanders injected All Blacks halfback Aaron Smith into the game late in the piece and he had made an impact through his leadership.
But having such a young team, who had made a lot of mistakes at the start of the game, they had toughed it out and kept the Highlanders out through a pretty good middle of the game but at the end they were not good enough, he said.
The training had 'amped-up' a little this week and there was attention to working on making decisions when fatigued and under pressure.
"If you just wait for the game then it is delayed so it's a balancing act of putting these men under pressure to make right decisions," Cooper said.
"If you don't do it at training, it's not going to happen on the field as quickly so to accelerate it you've just got to be working with these men one-on-one and putting them under pressure. All our trainings we try and go as hard as we can and close to the game as we can."
The pressure doesn't ease because the Brumbies also lost at home to the Rebels.
"The Brumbies will be hurting, like us. They lost their game, they should probably have won that. They've got a great scrum, they've got a great lineout drive and they've got some stars sprinkled among them so we've got to be on our game and have real clarity on how we want to play them," he said.
First five-eighths Damian McKenzie, fullback Shaun Stevenson and lock Brodie Retallick were all recovered from injuries and were expected to be available for selection. Halfback Brad Weber was still being assessed.
Prop Atu Moli had sustained an elbow injury which was likely to keep him out for four to five weeks.
While frustrating, the injury situation did provide more depth for the side with other players being called in and Cooper cited the example of Orbyn Leger, who played first five-eighths on Friday against the Highlanders, in showing he could handle both five-eighths roles.
"With Orbs doing what he did at the weekend it has given us more options there. It's a tough competition and we've got Marty McKenzie coming back and Jack Debreczeny coming back and we've got Beaver [Stephen Donald] in the team, and now we've got a number of 10s hopefully that are going to be ok and we can make some choices.
"The choice will be not for them personally, but what's best for the Chiefs," he said.