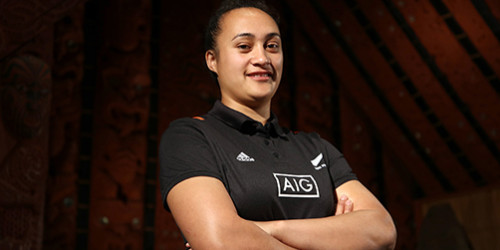 She soaked up plenty from playing outside the world's best halfback Kendra Cocksedge and the Blacks Ferns' three-match tour of the USA and France presents another ideal opportunity for the 23-year-old Aucklander to bank more priceless knowledge.
---
QUICK TAP: BLACK FERNS SEVENS DOMINATE WORLD RUGBY AWARDS NOMINATIONS
---
"It was a dream to play against Australia. It's always been a dream of mine to be named in this team," says Demant, one of the 28 contracted Black Ferns. "To get the opportunity to start in August was a privilege. I tried my best to play my best game."
Helping immeasurably was the ride outside Cocksedge.
"I got the best service in the world. I got fast ball and I was standing far away from her!"
With Victoria Subritzky-Nafatali on the injured list, Demant acquitted herself well in the 2-0 series defeat of the Wallaroos. She can also operate in the No 12 jersey. Other options include the seasoned Chelsea Alley, who can also play both five-eighths positions, and Hawke's Bay's Krysten Cottrell. Both Cottrell and Demant were high up in the Fiao'o Faamausili Medal standings for their strong form during the Farah Palmer Cup.
Black Ferns head coach Glenn Moore felt Demant made a good fist of her first Test series.
"It's a tough position to play and I know she's learned a lot from that experience. By and large, we were really happy with her. We are also aware that she can play well at second five and she's an option there too," he says.
WRAP | Congratulations to @crfu and @WgtnRugby for taking out the Premiership and Championship titles in the #FarahPalmerCup. ????

READ ?? https://t.co/4MxgJPH0Z7 pic.twitter.com/SPyDUk24ud— Black Ferns (@BlackFerns) October 20, 2018
Demant saw some game time in the Auckland Storm midfield – her sister Kiritapu, also in the Black Ferns squad with two caps, often played fullback.
"I hadn't played 12 since my debut season six years ago. It can be challenging because at 10 you are used to calling all the shots. At 12 I had to trust that my inside was going to do that job. I didn't want to overcall her. It was nice playing 12, though, and being further out I've had more space and time," she says.
It was no plain sailing for the Storm, who found themselves relegated to the Championship just two years after making the final.
"It was an extremely frustrating and challenging season. We were disappointed with our results but credit to the other teams in the Premiership. It shows how far women's rugby has come and how far it can go. Every week is an opportunity in the Farah Palmer Cup."
Demant cannot wait for the Black Ferns tour, which sees a Test match against the USA in Chicago and then two in France against the world's No 3-ranked side.
"For us it's a significant and historic occasion to get to play alongside the Maori All Blacks. For those of the Black Ferns who have Maori descent, I think it's a pretty cool opportunity. Then to go and play France, who won the Six Nations, it's going to be hard but, coming off the FPC, we're all extremely eager to get out on the field and get into our work."
Demant knows her intermediate school French needs work, but she will lean on some of the older girls who can get by in tricky restaurant situations. She'll be right.
Congratulations to @WgtnRugby for winning the #FarahPalmerCup Championship for 2?0?1?8? in a 57 - 5 win over @OtagoRugbyTeam. The Pride have also gained promotion into the Premiership for the 2019 season. #WELvOTA #Ours pic.twitter.com/o0TyAqU9Jw— Black Ferns (@BlackFerns) October 20, 2018