Both of the Black Ferns camps have taken place in the Bay of Plenty, with a big focus on connection and a chance to set the tone ahead of the World Cup.
45 players make up the wider training squad and it's all about building depth and having all players clued up on structures and game plans for coach Glenn Moore.
"We have a good cross-section here. A good level of experienced players and some really good young talent that has come through Farah Palmer Cup and then onto either the Barbarians team or the Black Ferns in November. Some of them have grown a lot just in the short space of time between those games and now.
"Some of them have got a lot stronger and bigger and we are a lot fitter than what we were in November as well."
Elder, who spent time away from the sport last year while she became a mother to her daughter Mihiterena, said the competition within the squad is fierce.
"Not only does it provide us options in terms of what we can do in trainings, but it creates a depth pool where we can't be complacent. We are pushing each other to be the best and from 1 to 45 we are all pushing for positions. It's only going to put us in the best place leading into the World Cup."
The Black Ferns will come together for a camp every month until September's World Cup and there is a theme to each edition, with their recent camp having a big focus on kicking, defence and scrummaging.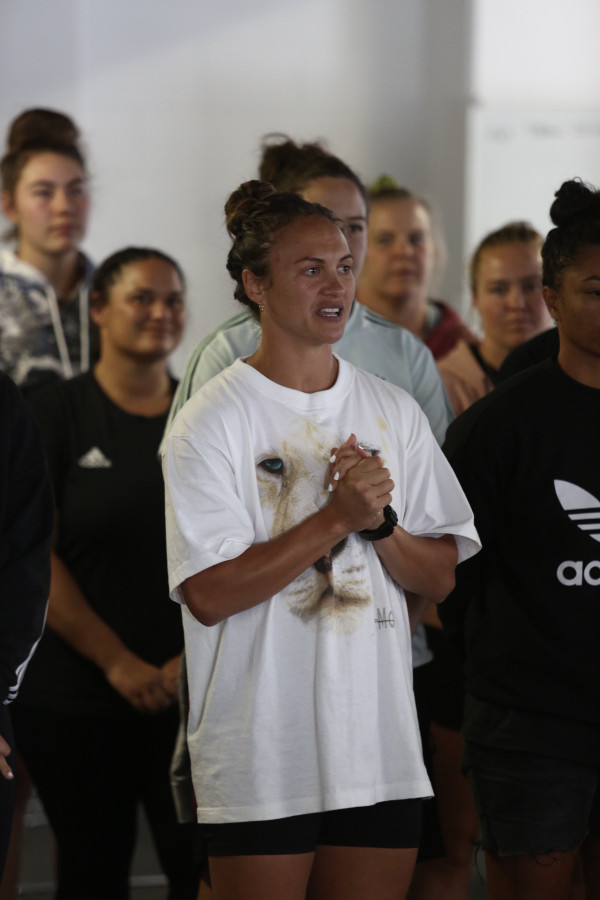 "We are looking at this as a step approach and we're introducing at each camp a new part of our game," said Moore.
"We have had Mike Cron [former All Blacks scrum coach] here with us. Having the best man in the world in his field working with these girls is awesome. He will be included in a lot more of the camps going forward. It's going to be an important component come World Cup time."
The opening camp of the year in January focused on fitness and conditioning, and for Elder who had only just returned to the environment, it was a challenging couple of days.
"Last camp was tough. I was definitely in some dark places and physically felt it. It took me a few days to bounce back, but that's what it's all about and we are in the most crucial year of our campaign, so I'm all for it."
Moore said it's great to have the likes of Elder and fellow leader Renee Wickliffe back in the environment. Wickliffe missed the November series after undergoing ankle surgery.
"They are huge. Before Les was unavailable for November, she was our captain and she's a key player and member in our squad. She's key in our leadership here and she's a well spoken person. Renee is a big part of our leadership group as well and we've seen that strength come back with them both being included."
Elder believes motherhood has taught her to have a wider lens on her surroundings within the Black Ferns squad.
"I am now able to look and check that everyone is ok, and I think that is important, whereas before having my daughter I was quite set on just going one way. We have 45 ladies here and if all 45 of us are on the same waka heading in the same direction then that is really healthy for our environment."