A range of special Kids Round offers including a limited number of free tickets for kids will be available across the Hurricanes, Gallagher Chiefs, Blues, and Highlanders home matches* during Round Four 17-19 March.
Super Rugby Pacific Tournament Director, Matt Barlow said: "It's awesome to be dedicating a round of Super Rugby Pacific to kids, they're the future of rugby. It's important to give young people the opportunity to support their team at home, while also celebrating them across the weekend through broadcast, and at-ground activities."
New Zealand Rugby General Manager Professional Rugby & Performance, Chris Lendrum said, "Kids Round comes at a time when a lot of families across Aotearoa have had a difficult start to the year due to flooding followed and the effects of Cyclone Gabrielle. We hope Kids Round will provide kids and their families with the option of an entertaining afternoon or evening out at the rugby."
As well as free and discounted tickets, Super Rugby clubs will be putting on special activities, entertainment and engagement opportunities so young fans can get up and close with their heroes and experience the fun and thrill of a night out with their families. More information on each team activities to be shared via social.
Kids Round kicks off on Friday 17 March at 7.05PM when the Hurricanes go up against the Waratahs at Sky Stadium in Wellington. On Saturday 18 March, the fast-starting Gallagher Chiefs host the Rebels at FMG Stadium Waikato where their second home game of the season will kick off at a family-friendly time of 4.35PM. The first 1,000 kids tickets sold to the Hurricanes and Chiefs home games will be free**.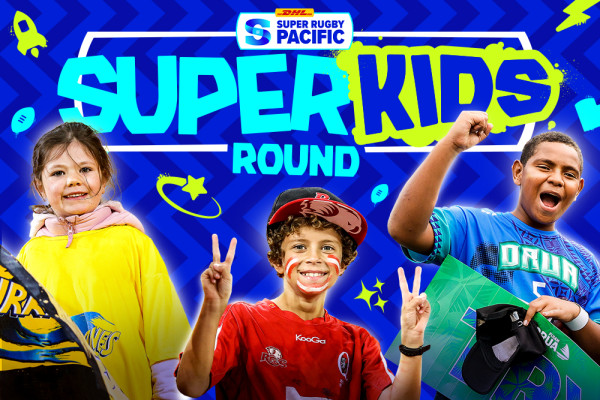 A Saturday evening blockbuster will see a replay of last year's DHL Super Rugby Pacific final when the Blues host the Crusaders at Eden Park at 7.05PM. Kids will go free when accompanying an adult on a General Admission ticket.
Rounding off Kids Round in New Zealand, the Highlanders are offering all free General Admission for kids, thanks to SBS Bank. With a family-friendly kick off time of 3.35pm, the Highlanders play the Force at Invercargill Rugby Park.
Kids Round matches in New Zealand for DHL Super Rugby Pacific:
Friday 17 March, 7.05PM: Hurricanes v Waratahs – Sky Stadium WELLINGTON
Saturday 18 March, 4.35PM: Gallagher Chiefs v Rebels – FMG Stadium Waikato HAMILTON
Saturday 18 March, 7.05PM: Blues v Crusaders – Eden Park, AUCKLAND
Sunday 19 March, 3.35PM: Highlanders v Force – Invercargill Rugby Park, INVERCARGILL
* Special offer: limited number of free kids tickets on offer with paying adults. Please visit the relevant ticket provider for each round four match to see the specific terms and conditions.
** Gallagher Chiefs offer of first 1,000 kids tickets are free with an adult ticket purchased in the Family Zone Uncovered and Fan Zone.