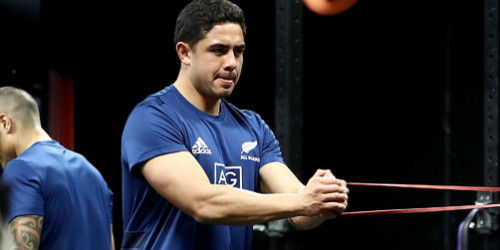 Lienert-Brown said the fact they were playing their first game away, and not as usual in Sydney against Australia, would not be an issue as the players looked forward to playing wherever it was.
---
QUICK TAP: BEAUDEN BARRETT SIGNS WITH NZ RUGBY UNTIL 2023
---
"Whatever challenge it is, you look forward to it, whether it is away or at home, you are expected to turn up and do the business," he said.
Lienert-Brown, who will be making his third trip to Argentina this year, the first two being with the Chiefs for Super Rugby regular and quarterfinal games, said the effects of jet lag due to the time difference was offset by only having the one flight.
The players were used to the surroundings and had their own ways of coping with the travel factor.
Where there would be a challenge was in dealing with a more confident Pumas side. He expected that the number of internationals who played for the Jaguares would make it tough because they were aware of all the structures and combinations and would be hard to beat in Buenos Aires as a result.
Lienert-Brown said the consistency of performance he had been able to achieve this year was the result of working, largely through trial and error, on a process of what worked for him.
"The main thing is I am just really enjoying my footy at the moment, not over-thinking and just going out and just loving the game."
The fact there was so much competition for places was something that kept players on their toes, especially when all the contenders were performing well and it was a case of not letting an opportunity slip.
He did feel playing at second five-eighths at the Chiefs this year had worked well for him and he was unsure whether the All Blacks selectors were looking at him there or as a centre. But he added that coming off the bench he needed to be able to play both positions was important.
?? Looking sharp for ????.

SHOP NOW ???? https://t.co/68JujEMlHO pic.twitter.com/UPXMfdGgX1— All Blacks (@AllBlacks) July 5, 2019