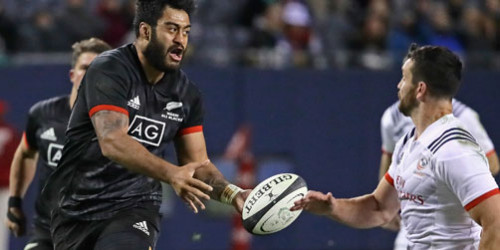 The Maori will continue their tour by playing Brazil in Sau Paulo next week and Chile in Santiago a week later to round out their tour.
Maori All Blacks captain Ash Dixon said he was happy the eight debutants in the side got good game time.
"We had to work pretty hard for that, the USA team came out pretty hot so we really had to work hard. We scored some good tries there but at times I was pretty disappointed with the way we defended," he said.
Dixon said he hoped the game could become something of a regular fixture for the two sides because it had been a great event, as part of a triple-header at the ground.
"We'd like to do this more and more and get a few more people to the game and encourage rugby in the US because I think once they figure out rugby's a great game, they're going to be a powerful weapon," he said.
New Zealand provincial flanker Tony Lamborn ended up captaining the American side after the first choice captain and wing Nate Augspurger was forced to withdraw just before the game.
Lamborn said the Eagles were disappointed with how they played.
"We've been training to a really high standard and we let ourselves down tonight. We tried to play to our game plan and I think we did that but we just weren't accurate at it.
"We wanted to keep them down in their half, rely on our line speed and our connection on defence to put them under a lot of pressure and turnover the ball in their half.
"Unfortunately I don't think our kicks were accurate enough to be able to do that. [We kicked] straight to their back three and they just countered it and unfortunately our defensive line wasn't connected well enough," he said.
Lamborn said he was pleased with the way the side reset whenever the Maori scored, and when they enjoyed their best spell during the middle of the second half that had also been the case.
"We all believe in each other and we are all capable of playing at a higher standard against a quality team like the Maori All Blacks," he said.
The Eagles face games against Samoa, Romania and Ireland over the next three weekends.