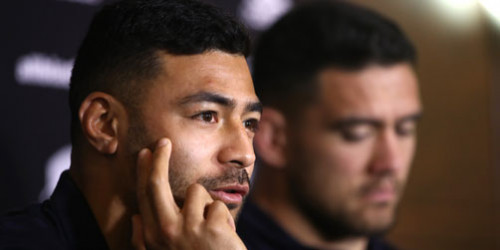 The All Blacks-Australia game is heightened by extreme pressure: the Bledisloe Cup defence, the home record on Eden Park, the potential loss of the No.1 world ranking and the ever-present prospects of the Rugby World Cup starting next month.
---
QUICK TAP: CRUNCH TEST THE BEST THE ALL BLACKS COULD ASK FOR
---
That was all on the back of last weekend's record 26-47 loss to Australia in Perth.
Mo'unga said on Thursday that it wasn't possible to fix all the issues that were exposed in Perth and they had been working carefully through them during the week.
There was an eagerness to get out and rectify things but the important thing was channelling that to being ready at 7.35pm on Saturday and not on the Wednesday or Thursday before the game.
The continuing growth of his combination with fullback Beauden Barrett was part of the intriguing mix.
"It's not something you're really clear cut on, there's no end vision that's a perfect way of what it looks like," he said.
"I think we're still trying top figure that out and that's the beauty of having me and Beaudy on at the same time. There's different situations that happen and having two ball players on the field and two kicking options, I think that's a bonus as well.
"When we are forced to play with the ball and try to chance our arm a bit it means that Beaudy can rely on me and I can rely on him to bounce a few things off," he said.
The whole process of stepping into the first five-eighths role was a long held dream for Mo'unga.

ALL BLACKS ROAD TRIP | Eden Park sold out, so the All Blacks v Tonga clash is your last chance to see the All Blacks play before they head to Japan.

?? 7th September, 2:35pm, FMG Stadium Waikato.
?? https://t.co/t0RNW7GV7c pic.twitter.com/QSIn4258eS— All Blacks (@AllBlacks) August 14, 2019
"I've always dreamed of this, I've always dreamed of being the No.10 for the All Blacks. It's what I can remember from when I was little and it's just the hunger that I have to be in this team environment.
"That's what I strive for and it's what I keep working towards so the next thing is I've been given this opportunity and it's to go out there and be me," he said.
Mo'unga said he was excited for his Crusaders teammates wings Sevu Reece and George Bridge being given starting positions.
"They are really deserving of this opportunity and I think they're going to do a great job this weekend."
Mo'unga said Reece was a witty character whose knowledge of the game could be under-estimated.
"His energy on the ball is awesome, the fact that he can turn something out of nothing is what's given him the year that he has had and he's a humble kid. He comes in and works really hard and just wants to learn.
"George Bridge is someone who time and time again just performs every week and at a high performance and as an athlete that is sometimes hard to do but he has shown he has a mature head and he is able to do his role consistently and with a lot of effort. I love that about George," he said.

?? What makes the boys stronger? Your support. Show us how you #BACKBLACK and you could win a trip to see us play live in Tokyo!

Head to https://t.co/fydrWNvxy5 to get started. pic.twitter.com/VsYT4x41IG— All Blacks (@AllBlacks) August 14, 2019
Hooker Codie Taylor, who is a substitute this week, said the forwards had kept things very simple during the week and had nailed a few things they needed to and as a whole the forward pack was excited by the challenge.
"It's going to be a cracker of a game. Most games are won up front so we've got a duty to do ther," he said.
Taylor said it wasn't only the forwards but the whole team who looked at last weekend's result and felt they had let themselves down.
"With that comes a responsibility to front up this week. If we don't do our job up front as a forward pack we don't give the opportunities to the likes of Richie and Beauds and that, to do what they can do.
"Australia, you always know they're a great team. They've got good flair, they've got a good forward pack, they're really skilful and if you don't front up and don't do a job they'll roll on top of you. As much as it hurts to say, they were more hungry than us on Saturday so we've got to be better than that this Saturday.
"As a player off the bench your job is to bring energy to the group for the boys who have been slogging it out for 40-60 minutes. We're not trying to overthink it on the bench. We get together after halftime and say what we're seeing and what we need to do to bring a bit of an edge when we come on and that's a real focus for us," he said.
Eden Park is a SELL OUT for the #BledisloeCup decider!

?? Your last chance to see the All Blacks on NZ soil before #RWC2019 is against Tonga in Hamilton on Sept 7. Get your tickets here ???? https://t.co/YYXQ52In92 pic.twitter.com/fEOwAwgN6E— All Blacks (@AllBlacks) August 13, 2019