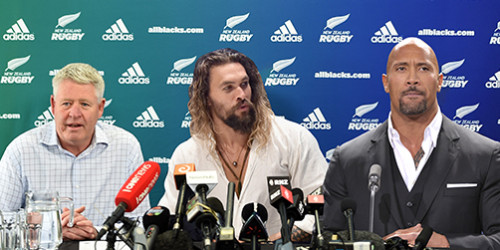 Fresh from conquering the box office with movies like Jumanji, Aquaman and The Fast and Furious, Hollywood stars Dwayne Johnson and Jason Momoa have now turned their attention to dominating the rugby field – and have their eyes set on the All Blacks.
---
Both Johnson and Momoa have long had a love affair with rugby. Momoa wore a vintage All Blacks jersey at the Vancouver Sevens and Johnson picked up the oval ball as a child while growing up in Auckland, New Zealand.
At 1.96cm tall and 120kg of rippling muscle, former WWE Champion Johnson believes he will transition quickly into rugby and is eyeing a spot in the loose forwards.
"Watching my bro Ardie Savea, Kieran Read and the rest of those boys burst through tackles, smash defenders and fight for every inch on the field has inspired me to make the switch to rugby. I've been in the ring with Hulk Hogan and John Cena and shared the screen with some of Hollywood's biggest stars, but that's nothing compared to packing down in the All Blacks scrum! I'm ready to rock. Let's go!" said Johnson.
Hawaiian-born Momoa has similar physical attributes to Johnson but believes his extra pace will work in his favour out wide.
"I've made my mark in Hollywood but I was really born to play rugby. I have the pace of Rieko Ioane, the offloading ability of Sonny Bill Williams, the good looks of Ryan Crotty and the best hair in the business. Together that makes me a deadly package. I can't wait to learn my craft in the Heartland Championship this year before setting my sights on the black jersey," said Momoa.
New Zealand Rugby CEO Steve Tew said the signing of the Hollywood duo was an exciting development for the future of the game.
"From a high performance point of view, we're extremely excited to add Johnson and Momoa to our stable of contracted players," said Tew. "From their speed, strength, agility and aerobic capacity, they're off the charts on every metric! To put it simply, they are perfect athletic specimens. If I was a scientist creating the prototype of the perfect rugby player, they would be it."
Johnson and Momoa are expected to arrive in New Zealand in early April where they will take up training for the Heartland Championship.
Johnson has linked with Ngati Porou East Coast while Momoa has signed on with the Meads Cup champions, the Thames Valley Swamp Foxes, for the 2019 season.

What is the story behind THAT jersey and what does it mean to Jason Momoa? Find out ????????????https://t.co/JxpIpOVryd pic.twitter.com/nU52Eii3Fl— All Blacks (@AllBlacks) March 12, 2019