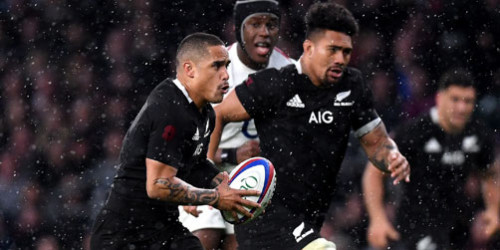 That was former British & Irish Lions and England five-eighths Stuart Barnes' view in his column in The Times after comparing Premiership rugby and Super Rugby at the weekend.
---
Comparing what he had seen produced by the Highlanders and the Chiefs, he said, the contest between the Harlequins and Leicester had been a 'turgid affair'.
While England coach Eddie Jones had said he didn't believe club rugby was much help in assessing whether the players can make the leap from club to Test rugby, it did, Barnes said, show who shouldn't be part of the international plans.
So far as Barnes was concerned prop Dan Cole would not be of value in a contest with New Zealand.
"Yes the 31-year-old tighthead prop is a decent set-piece technician but New Zealand are not going to fall because Cole drives their loosehead into the ground.

?? SIGNED | Te Toiroa Tahuriorangi has signed on with @NZRugby through to 2021.

FULL STORY ?? https://t.co/DSqghAbejh pic.twitter.com/CFejZ5BTCW— All Blacks (@AllBlacks) May 6, 2019
"Imagine trying to beat New Zealand with the equivalent of only 14 players around the field. That is what Cole offers: a negative impact as a ball-carrier and a proven penalty threat – to his own side – at the breakdown," he said.
Barnes said the days of a prop having a few bonus skills are gone.
"It is every man on deck these days. New Zealand have raised the speed and skill levels of the game," he said.
Barnes said Super Rugby had been failing to live up to its name for much of the season and a lot of players had delayed starts. But the Highlanders-Chiefs game, and the first half by the Hurricanes against the Rebels, had truly been 'Super' rugby.
"Inspired attack or inadequate defence? Defence often appeared optional. That's how some of the Old World critics like to categorise Super Rugby: glorified basketball," he said.
In such an insult there was praise because basketball's best had size, speed, balance and brilliant handling skills.
"It certainly doesn't seem to bother the All Blacks, whose teams are its arch-exponents. Pace is a problem, a problem for those not used to playing against it," Barnes said.
"At its best, Saturday morning [GMT] in Dunedin, the speed of the game is light years ahead of European intensity.
"When New Zealand translate the speed of Super Rugby to their international team, the step-up from the next grade down to Test rugby is doable. Other sides find it breathless.
"If you don't believe that, examine New Zealand's win-loss ratio since the format of Super Rugby was introduced into the southern hemisphere in 1996. Look at the destination of World Cup winners. The evidence indicates that the south has a system that slips more easily into the highest level of competition than European 'intensity'.
"To win the World Cup, the yardstick for every team is to possess a side capable of beating the All Blacks. There are two broad approaches to this most difficult of tasks: you either match them at their game or confront them with an alien style of rugby," Barnes said.
England had caused chaos for 25 minutes against the All Blacks at Twickenham last year and South Africa had beaten the All Blacks 36-34 in Wellington by playing it tighter to reduce the area available for New Zealand to play their game.
But whichever way they chose to play the All Blacks, they would need a dynamic game plan, Barnes said.
We know you've been waiting for this! @crusadersrugby ALL TIME All Blacks XV! ??

Grab your All Blacks 2019 match tickets here ?? https://t.co/Ys4PmfRsdr pic.twitter.com/Jc5Afn3TkQ— All Blacks (@AllBlacks) May 6, 2019