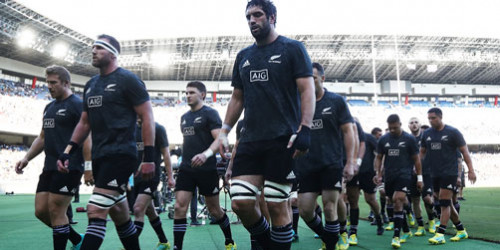 The Rugby Paper's Nick Cain said instead of a side brimful of confidence as in the 17-match winning streak in 2016-17, Jones had 'cobbled together an injury-depleted experimental England side, with an inexperienced pack and a reshuffled backline to face an All Black double World Cup-winning crew which has virtually a clean bill of health'.
---
QUICK TAP: BRITISH CRITIC LABELS THE ALL BLACKS THE 'BRADMAN BLACKS'
---
"Not only is Steve Hansen's side massively more experienced, it arrives with another South Hemisphere Rugby Championship under its belt," he said.
While the All Blacks had maintained their standard of performance over the past three years, England's level had 'slipped alarmingly', he said.
In spite of their fifth place in the Six Nations, and losing to Scotland, France and Ireland many England players were being talked up as world-beaters by their teammates and in the media, something that was seen in English football from 2001-2010 when they had consistently failed to live up to their billing, he said.
"Based on England's form over the last six months anyone who comes to the conclusion that England will beat New Zealand on Saturday at Twickenham is doing so on the flimsiest of evidence – whereas there is an avalanche of reasons why they will not," Cain said.
The All Blacks were superior in practically every department. They had developed the most devastating counter-attack ever seen. Their scrum and lineout was stronger, the front five forwards were better runners and handlers and their loose forwards were more accomplished.

?? Hey London, we've arrived.#ENGvNZL pic.twitter.com/tgiwrmnD1U— All Blacks (@AllBlacks) November 4, 2018
"If you add to the mix the elusive brilliance of Beauden Barrett and Ben Smith, as well as the finishing prowess of Rieko Ioane, there is an argument to be made that, for once, England would do better not to turn up," he said.
Many comparisons have been made in the English media about the 38-21 win by England over the All Blacks in 2012 when Stuart Lancaster coached the side.
But Cain said for England to match that they would need to produce an effort where they were the best player in each position on the field.
"Above all, this England team have to defy the predictions of them being out of their depth to produce a game of such error-free power and focus that it surpasses anything they achieved in their triumphal march in Jones' first year in charge.
"The most exceptional element of England's 2012 triumph was that they made virtually no mistakes, while applying such incessant pressure on New Zealand that it forced them to fluff their lines," he said.
"England have beaten New Zealand despite overwhelming odds before, and they can again – but to do so against a champion All Black side in mint condition, they will have to be every bit as sharp and skilful, and play with manic determination.
"England will have to deliver a game for-the-ages, and by definition those do not come around very often," he said.
?? EXCLUSIVE COLUMN | From Ngani Laumape's accomplished performance to how the debutants fared, @JimKayes takes a look at the best performers from the All Blacks clash with Japan.

READ ?? https://t.co/FjSWwcCO9B pic.twitter.com/dNlGOk29f7— All Blacks (@AllBlacks) November 4, 2018