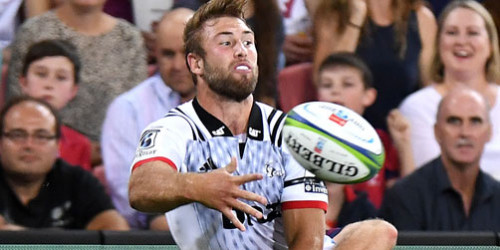 That's certainly what three-quarter Braydon Ennor has found in his two seasons of Investec Super Rugby.
---
In Ennor's case it is a double demand. He made his mark as a centre with some outstanding play in New Zealand's Under-20 World Cup win in Georgia in 2017 but when All Black Jack Goodhue has first running, Ennor has found his chances largely confined to playing on the wing.
Not that it has done him any harm as he has scored four tries in his 11-game career. But playing at centre in the Crusaders' opening game against the Blues this year he took the chance to demonstrate his potential in that role.
Competing for a place in a strong rearguard with the likes of George Bridge, David Havili, Will Jordan, Sevu Reece and another emerging player in Leicester Faingaanuku, Ennor was aware that there were benefits not only for himself but for the side from the resulting competition.

??? TALKING POINTS | Find out what has got us talking and keep up with all the comings and goings from another exciting round of #SuperRugby.

READ ???? https://t.co/yVZtcO2lWa pic.twitter.com/2RRSvmejLI— Super Rugby (@SuperRugbyNZ) April 22, 2019
"Competition breeds success. We love having competition, we're all good mates and at the end of the day we're fighting for that spot but we'll help each other as we can. We're in the team to play competitively and that's what we love.
"Guys like George Bridge and David Havili have been around a bit longer than I have and I love watching them go well and learning what I can do better," he said.
Ennor said nine rounds without a bye had been a long haul for the Crusaders, but the side had been on a roll and were excited to play more rugby although they had enjoyed their week off.
The side were expecting the best of the Lions, they had played them twice in a row in the final and were looking forward to playing them on Friday, he said.
"I guess they're going to bring a bit of vigour," he said.
At the same time as preparing for the anticipated assault from the Lions, the Crusaders were mindful of the need to get better starts to their games. They couldn't rely on coming through later in games and they would be looking to fix that this week.
While the Crusaders had endured some demanding defensive requirements in the first half of recent games, it was also a factor that opposing teams had come out strong as well.
"We might be trying too play a bit much, trying to force too many things and we'll look to try and fix that this week," he said.
You've seen all the action, now it's time to select your form #SuperRugbyXV! Pick yours now and you could win a Super Rugby jersey!

GET STARTED ?? https://t.co/8YShltuDVw#RaiseTheStakes pic.twitter.com/83fMjSswas— Super Rugby (@SuperRugbyNZ) April 22, 2019