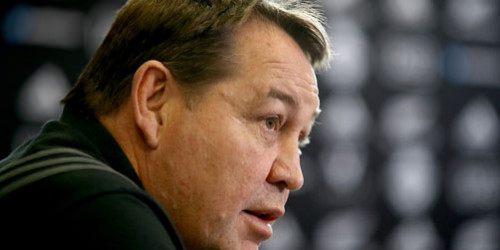 Armistice Day, November 11, is Sunday and the All Blacks will be commemorating the occasion by wearing a poppy on their jerseys remembering the sacrifice of all nations involved in a disastrous conflict that had changed families forever, All Blacks coach Steve Hansen said, while also resulting in the loss of 13 All Blacks.
---
And the Hillary Shield, held by New Zealand, added to the occasion and the memory of one of the conquerors of Mt Everest, Sir Edmund Hillary who had helped put the country on the map.
Hansen, when asked if he would like to see the All Blacks play England more often, said the main consideration was concern for players but that sometimes less was more and the anticipation around the Test was due to the fact the sides hadn't met for so long.
Hansen said the Test was bigger than last year's British & Irish Lions tour, because the tour had made it bigger. The All Blacks weren't successful and there had been a harder edge in the week's preparation.
Games against regular Investec Rugby Championship opponents meant there was less work to do to change the style you were expected to meet in those contests and while the All Blacks hadn't played England since 2014, they had seen them play a lot.
In the world today there wasn't much you could do without everyone else seeing it.
"We've been watching them for quite some time and been impressed by them but at the end of the day the pendulum has to swing back to what you're going to do," he said.
That included assessment of the opposition's strengths and weaknesses and plans to deal with both.
"As long as you've got the ability to adapt and adjust in the heat of the battle you've got a chance to come out the other side of it successfully but from Tuesday onwards all we're focusing on is ourselves and what we want to do within that plan and how we're going to execute it and then as you get right down to the end of the week you just get excited.
"Saturday's the fun part, you've done all the work. You just go out and trust your instincts and play," he said.
England wouldn't deviate much from their usual game, he expected.
"They'll play a physical game up front, their kicking is pretty good, their aerial skills to support that are good and they'll look to wear you down. They won't go away so if you don't take your opportunities that come when you've got momentum then it's going to be a dogfight.
"If we are able to take all our opportunities when we have momentum and they don't take theirs it could be a game that we could possibly win. But that's Test footy, you've got to make the most of the moments you get given and we know we won't have all of the moments and they won't have all of them either," he said.
Prop Karl Tu'inukuafe, a newcomer to most English fans, had come a long way but he still had a long way to go, Hansen said.
"He's got to understand that he's not 170kgs anymore, he's actually 130kgs and he's a mobile, really good athlete and it's getting out of the habits that come with being 170kgs and he's slowly getting there. It's about getting some confidence and clarity about what he's doing other than just the things he's really good at so it doesn't happen overnight," he said.
It's been four years since the #AllBlacks swept England 3-0 on their tour to New Zealand.

Who will come out on top when these two teams meet in the much anticipated clash this weekend?#ENGvNZL pic.twitter.com/wXGCuBAfvQ— All Blacks (@AllBlacks) November 8, 2018