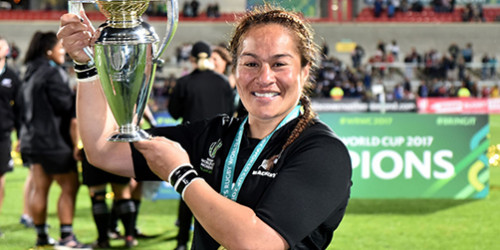 The 38-year-old has hung up the boots after a 22-year senior career, 16 years in the Black Ferns and a stream of firsts: first woman to play 100 provincial games for one union, first Black Fern to hoist 50 Tests, first woman to appear on the Rugby Almanack cover (2018). Awarded the ONZM for services to rugby this year, Faamausili retires as the most capped Black Fern, with 57 caps, four Women's Rugby World Cup titles, many more provincial crowns with the Auckland Storm, and several years' standing as the world's best hooker.
---
QUICK TAP: ITUNU LOOKS BACK WITH PRIDE ON CAREER
---
She is making a clean break from active rugby, and will not be available to play for her Marist club or the Storm.
"I knew I was only going to come back for one more year to help the girls through this season. I had a made a call last year, but that was a pretty short retirement," says the Manurewa policewoman.
Her last hurrah came, with Linda Itunu, in last month's Test match against France in Grenoble. The ground was a sellout, and France proved too good to record its historic first victory over the Black Ferns. Faamausili talked of the almost "overwhelming emotion" just after fulltime when her and Itunu were accorded a farewell haka from the Black Ferns.
"I have so much love and respect for those girls. We have a great culture in our team. For them to do that, it was something really special that you can't really describe."
The defeat robbed Faamausili and Itunu of fairytale finishes, but there was a silver lining.
"Even though we didn't come out with the win, I was extremely proud because of the rugby and the crowd that came out to support. Even though they were cheering France, to me they were cheering women's rugby. To me, that was a win in itself," she says.
Faamausili developed a reputation as a hard-nosed, rugged competitor with a penchant for latching onto lineout drives to score tries – she nailed a hat-trick in Sydney against Australia in August. But she never neglected her core roles – she was a solid scrummager, an accurate lineout thrower and loved the hurly-burly of the forward exchanges.
But you might not have realised that in her nervous opening to her Test career. It came in May 2002 at the Women's Rugby World Cup in Barcelona. The Black Ferns beat Australia 36-3 without too many troubles. Sitting on the pine was a fretting 21-year-old who desperately wanted to make an impression.
"I remember coming on for the last three minutes and going straight to a lineout. I overthrew it, missed my target. We still won the ball, there was a scrum, and the hooter went. I was shaking, but so nervous coming on for the captain," she recalls.
That captain was of course Farah Palmer, a trailblazer for women's rugby. Faamausili had to exercise patience, not winning a start for more than three years. But it was a priceless experience and she absorbed the lessons.
She lists four main career highlights.
The first was tackling Davida White in a 1997 Otahuhu v Marist club game. Faamausili was a raw 16-year-old.
"She was a Black Fern. I was just a teenager starting out, but that was a lift in my spirits. It felt like achieving a goal."
Her second highlight was her first Test start, in 2005 at Eden Park against England. It was special for Faamausili as it was in front of her family and friends. She has never lost the love of playing at New Zealand's home of rugby. That match was also notable for a brilliant solo try to lock Monalisa Codling.
The third high point was the 2010 Women's Rugby World Cup, when the Black Ferns beat England in the final when reduced to 13 players for a time. That was a big year for Faamausili, who graduated from police college.
Last year's epic WRWC final victory over England was special but also poignant for Faamausili, coming 16 years to the day since her father passed away.

?? Drum roll please...introducing your Fiao'o Faamausili Medal finalists: Kendra Cocksedge (Canterbury), Krysten Cottrell (Hawke's Bay) and Jackie Patea-Fereti (Wellington).

Who will scoop the ?? at the #ASBRugbyAwards?

FULL NOMINEES ???? https://t.co/xT6JWGz65E pic.twitter.com/bZocL91Syr— Black Ferns (@BlackFerns) December 5, 2018