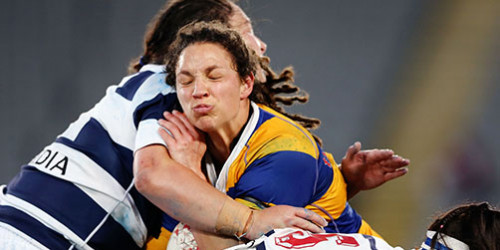 Last Friday night, the Volcanix recorded their first ever win over Auckland, in what was an absorbing game at Eden Park. Three years is all it took to turn around a 100 point defeat.
A handful of players where there for BOP three years ago and have helped provide the perfect illustration to the point I was making in a recent column…that newcomers need time to thrive, to build their playing base and develop their programme. Time is one thing, but they also need games.
---
---
Greer Muir hasn't missed a match since her debut. Two weeks ago she bought up 50 games for her province, becoming just the third woman to reach the milestone for Otago. But here's the rub – Muir made her Otago debut in 2011 meaning the Spirit have played an average of seven games a year in that time (an average to allow for fluctuations in the number of teams, reaching semi-finals etc.)
In three weeks the Farah Palmer Cup will be over for another year. Some players will switch to regional and national sevens, and the Black Ferns will head off on an historic end of year tour, but many players won't have a game now until the club competition begins again around May next year.
Therein lays not necessarily the problem, but the most pressing issue or project in the development of women's rugby - creating meaningful, long-term sustainable competitions, getting game time for these athletes to develop their skills, knowledge, tactical nous and understanding.
At the moment, the FPC is effectively the pathway into the Black Ferns but the gap to international rugby is large, especially as countries like England and France are now putting significant investment into their women's 15s programmes. Ideally, a semi-professional competition with fewer teams would run earlier in the year. The teams could be aligned to Super Rugby franchises, there may be a trans-Tasman element or imports allowed, and of course there would be player payments. It therefore becomes the competition which would bridge the amateur FPC and international rugby, creating an aspirational pathway for players to step through.
To be clear, this is my wishful thinking - I'm neither paying for it nor having to think how it looks in 20 years, and I understand the need to be cautious. AFLW launched to massive fanfare in Australia and was deemed a great success in its first year, but is now having problems on numerous fronts.
New Zealand Rugby's priority right now is to enable the Provincial Unions to invest, support and develop the high performance programmes for their female athletes, putting the onus on the PU's to do the grassroots toil, while the business case for a semi-pro comp and the bigger picture is developed. There's also the obligation to find a balance for players who fit their rugby commitments around their working lives.
But the need for more games is pressing if rugby is going to service all those who are now coming through the ranks, as evidenced by the growth in playing numbers among girls and women. We've got another three weeks to enjoy the Farah Palmer Cup and a Black Ferns tour to savour….what's next?
Renee Wickliffe on ?? in the #FarahPalmerCup. #Ours pic.twitter.com/jsXpZWto2f— Black Ferns (@BlackFerns) October 2, 2018