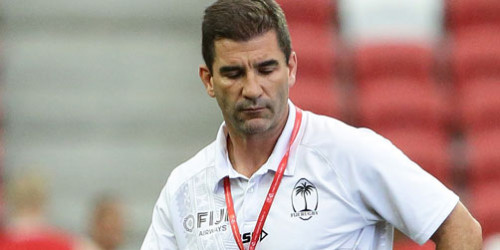 Needing their strongest possible team as they are drawn with New Zealand, Australia and Kenya for pool play, they returned from Canada in midweek with several injury concerns.
Fiji's head coach Gareth Baber said: "It's a tough pool with effectively three quarterfinals for us. The boys know what they have to execute, they know that we'll have to play six finals to win the tournament which will be tough. But that's the nature of the competition we're involved in.
"At the moment there are some injuries among some of the players which may be an issue going in to Hong Kong.
"But we've had our debrief, we're hurting from these last tournaments, we want to use that hurt to fuel this next stage of preparation and we know what to do in the remaining weeks until Hong Kong kicks off."
Fiji finished only sixth in the Las Vegas tournament and were third in Vancouver. They are in third place on the overall ladder with 101 points, five points behind second-placed New Zealand and 12 points behind the leaders, the United States, the side they beat in the playoff for third and fourth in Canada.
Main concern for the side is captain Kalione Nasoko. He was out of action on day one in the Canada leg and the recurrence of a knee injury that has plagued him since the Dubai tournament last year has him under a serious cloud.
"We'll look at that this week, but it'll be a hard push to get him to Hong Kong. Obviously, we'll work to get him there," he said.
Waisea Nacuqu is out for the remainder of the series and that was a big blow but against that rising star Filimoni Botitu has been given playmaker duties and shown good touches and he should be fit to play the Hong Kong tournament.
"Botitu took a couple of smacks in the back and was having a lot of neck pain so we managed him through the second tournament. It's incredible to think he came into that position when we lost Waisea, and stepped up to be really strong for us," he said.