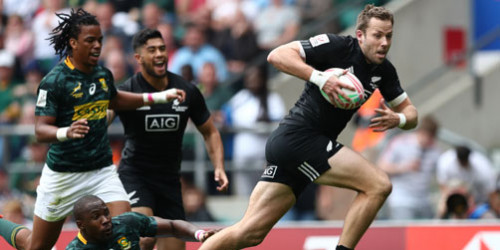 Previous competition leaders the United States beat France 31-14 to take third place.
---
QUICK TAP: PLAYER CATCH UP: ANTON LIENERT-BROWN CHATS WITH MILS MULIAINA
---
Going into next weekend's final tournament in Paris, Fiji have 164 points, the United States 162, New Zealand 143, South Africa 131, England 109 and Australia 99.
In their quarterfinal, the All Blacks Sevens started fast against France with Andrew Knewstubb scoring the opening try of the game while Tim Mikkelson broke through the strong French defence to give New Zealand a 14-0 lead at halftime. However, tries to Stephen Parez and Pierre Giles Lakafia, one unconverted, got them within two points.
Just when it looked like that would be enough for New Zealand to gain the win, a break by Terry Bouhraoua saw his attempted pass knocked away by Joe Webber. That resulted in the referee awarding a penalty try to give France their first back-to-back wins in games against New Zealand winning 19-14.
New Zealand were then left to play for fifth place, against a South African side who were beaten 22-29 by Australia in their quarterfinal.

QUALIFIED ????? The #AllBlacks7s book their spot in the #Tokyo2020 @Olympics pic.twitter.com/7kx6nKbo6C— All Blacks Sevens (@AllBlacks7s) May 25, 2019
While New Zealand scored first through Sione Molia, South Africa responded with Muller du Plessis scoring twice to claim a 10-7 lead at the break.
Scott Curry unleashed a perfect backhand pass on the sideline to give Andrew Knewstubb the chance to score. But South Africa came back through Stedman Glans to reclaim the lead.
The two sides battled for the advantage as the clock wound down and an opportunity was created with an offload to Tim Mikkelson and he claimed the try for the All Blacks Sevens to win 21-17.
That left New Zealand to face Ireland, who they had already beaten in pool play, to decide fifth place.
Ireland scored first through Terry Kennedy but Tone Ng Shiu, who had been such a handful in the pool game turned in on again, opened New Zealand's scoring while Joe Ravouvou scored before the break to give then a 14-7 lead.
No sooner had Billy Dardis scored for Ireland after the resumption than Ravouvou reclaimed the lead. Then a long Knewstubb pass saw Ng Shiu cross for his second with Regan Ware scoring the last. New Zealand converted all five of their tries, four to Knewstubb and the last to Scott Curry in the 35-14 win.
The #HSBC7s standings looks like this heading into the final round in Paris next weekend! pic.twitter.com/teGk4jq1To— World Rugby Sevens (@WorldRugby7s) May 26, 2019