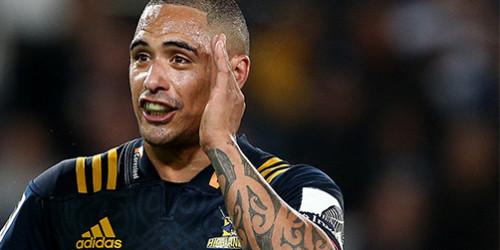 Do the Chiefs have an injury curse?
What might the Chiefs be capable of in a season when they were unaffected by injuries? That's a fair question for a side that since 2012 at least, have had more than there fair share of setbacks and yet still been able to remain competitive. Again this year they have played much of their campaign without the services of flanker Sam Cane, lock Brodie Retallick and fullback/five-eighths Damian McKenzie. Those three alone would create a significant gap, but there are others as well and yet as the Sharks found on Saturday, an injury-affected Chiefs side cannot be under-estimated. Their effort to claim the win was a triumph for Chiefs spirit, something coach Colin Cooper has been on about all year.
Blues lacking confidence
Another question might also be: what could the Blues achieve if they had some of the qualities the Chiefs seem to be able to call up at will? The Hurricanes were there for the taking on Friday in Auckland but in spite of a wealth of possession, a dominant forward pack and plenty of good field position, the Blues still couldn't pull something out of the fire. It is reasonable to expect that had it been during their four-win phase earlier in the campaign, the confidence of the Blues side would have seen them home in similar circumstances. Now they find themselves needing to regain their enthusiasm for success to deal with the desire the Chiefs now have to secure a playoffs spot.

?? Have we just seen the try of the season?#CHIvSHA #RaiseTheStakes pic.twitter.com/EnMUs1FF2L— Super Rugby (@SuperRugbyNZ) May 12, 2019
Crusaders to work on discipline
One of the more worrying aspects of the Crusaders' continuing dominance of the competition, for remaining opponents, is their dissatisfaction with an area of their game. That means it will become something of a concentration to make them even better. In this instance, it is the high infringement rate they are suffering, (only the Hurricanes have offended more) and in spite of a desire to improve things in Pretoria, they still came out on the wrong side of the penalty count. The main areas of concern are at the breakdown and off-side. The latter is a lot easier to fix than the former. Staying onside should be an easy fix, but winning over referees at the breakdown is capable of being hamstrung by matters of interpretation. Look for some remedies being trialled at Cape Town at the weekend.
Highlanders head to South Africa on a high
Heading to South Africa to play the Lions and Stormers, the Highlanders may be without some key firepower in Ben Smith, Jackson Hemopo and Liam Squire, but they have gained some key competition points from their 32-27 win over the Jaguares and only need to maintain their winning momentum to ensure a playoffs place. What impressed about the win on Saturday was the way the Highlanders' defence stood up when the Jaguares introduced their international firepower off the bench in the second half. Taking advantage of the Jaguares' less experienced line-up in the first half, the Highlanders made good use of their chances to build up a buffer which stood firm in the second half when their only points were from penalty goals to Josh Ioane. While the Jaguares' master plan came unstuck as they suffered for their infringements when heavily penalised by referee Ben O'Keefe.
"Need to be patient"
One of the most over-used descriptions emerging from those half-time television vignettes with coaching representatives of sides is the 'need to be patient' in games. If any side bore that out at the weekend, and as they have for much of their season, it was the Hurricanes. It was if they knew they could afford to wait for the Blues to run out of options before they picked them off for another win to keep them well-placed on the points table. Coach John Plumtree talked after their 22-12 win at Eden Park about being perfectly happy to 'win ugly'. But with sound defence, in the face of some woeful scrummaging, there was a calmness about the Hurricanes under pressure that suggested it would only be a matter of time before they broke the shackles. And so it proved. But what could be the outcome if they were able to get their game together for 80 minutes? As they say, in another of the game's clichés, that's a 'work-on'.
?? What a round of #SuperRugby, who were your standout players?

Let us know who is in your form #SuperRugbyXV for this week. Get started here ?? https://t.co/8YShltuDVw pic.twitter.com/HTjWeoijBL— Super Rugby (@SuperRugbyNZ) May 12, 2019