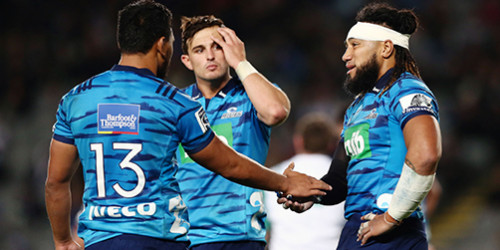 FORWARD PASS DRAMA?
If Braydon Ennor's pass to Sevu Reece was forward, how many other tries in Super Rugby might have been overruled if the same principle had been applied? Debate regarding the physics of a ball being passed between two people running hard has been around for many years but it has generally been the principle that if the passer's action demonstrated the intention to pass the ball back to its recipient then it was a legitimate pass. Perhaps New Zealanders and Australians are exposed to this more often as the result of the twin codes of union and league so often debating the issue. But the need for consistency in the ruling, and many South African news outlets agree that it was a marginal call at minimum, is clear and obvious. So far out in front of the competition are the Crusaders that a draw might be regarded as neither here nor there, but in a vital playoff game the call could be game determining.
---
QUICK TAP: BLUES ONLY NZ TEAM TO ACHIEVE A WIN IN ROUND 14
---
TOUGH RUN HOME FOR BLUES
Delighted as the Blues might have been with their 23-8 win over the Chiefs at Eden Park, there is not much time to reflect on their success. Their remaining games are against: the Crusaders (away), the Bulls (at home), the Reds (away) and the Hurricanes (away). That's a tough run home in anyone's language. However, in subduing the threat of the Chiefs, and going so close against the Hurricanes last week, the Blues did demonstrate that if they have achieved nothing else this year they have advanced the quality of their forward play and that is a significant asset to build on in future.
CANE'S WELCOME RETURN
Returning All Blacks flanker Sam Cane got some bonus minutes that will have been a welcome sight not only for the Chiefs' management but the All Blacks as well. A cut sustained by starting flanker Mitchell Karpik saw Cane get a first-half cameo before returning in the second half and to total 42 minutes in all. That was enough time to put in six tackles, among them a couple of choice reminders of his ability, while also managing to make three carries, beat a defender and have to concede one turnover. It was a comfortable return that will be a boost for his injury-depleted side.

Welcome back Sam Cane ???? pic.twitter.com/FNcPaYhXIk— Super Rugby (@SuperRugbyNZ) May 18, 2019
MAKE EARLY TRIES COUNT
Is scoring early in a game an advantage? Both the Hurricanes and the Rebels, the home teams, might ask that question after their games over the weekend. Hurricanes flanker Vaea Fifita made the most of a run by fullback Jordie Barrett to get things underway for the home team. Rebels wing Marika Koroibete made the most of a Dane Haylett-Petty offload to open the scoring in Melbourne. But in both instances it only seemed to rouse their opponents. Barrett undid his earlier good work by ending up in the sin-bin for deliberately knocking the ball out of the in-goal area and dead. As they say in the motoring game, that's an instant fine. It also gave the Jaguares a penalty try, and while they couldn't score in Barrett's absence they never looked back. In Melbourne once Handre Pollard assessed things so quickly with a crossfield kick from a penalty that saw Cornal Hendricks level the scores before a few minutes later the Bulls seized the initiative with another try. While the Rebels got closer than the Hurricanes managed, the Bulls had enough firepower to go away in the final quarter.

ROUND 1?5? | Following some shock results last weekend, how hard will it be to predict this round? ??‍????‍??#RaiseTheStakes pic.twitter.com/83vMgPgbWA— Super Rugby (@SuperRugbyNZ) May 19, 2019

It's getting late in the season but Lions coach Swys de Bruin said their 38–29 win over the Highlanders had been the closest they had been all season to the way they wanted to play. There was concern over some of the soft tries they conceded but overall he was happy. "This is a good Highlanders team and they came at us hard, so I was very happy with what I saw from my team. It's not just about winning for us, but when you do get a win like this it brings a lot of confidence and this came at the right time," he said. The Lions are now third in the topsy-turvy African Conference and face a return game with the Sharks next week, having been on the receiving end of a 5–42 thrashing in their last encounter.