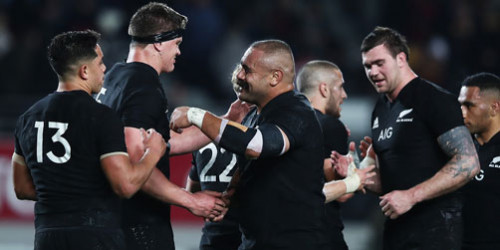 Scrummaging was important to the French and they would be looking to make a riposte at their next chance, he said.
---
QUICK TAP: THE SOUTH TAKES EARLY HONOURS IN JUNE INTERNATIONALS
---
Franks said he had woken up a little stiff on Sunday as a result of the scrummaging pressures on Saturday.
The French were always a little unpredictable in their scrummaging and countering them was a case of trying to adjust to what they were doing while staying disciplined in following the All Blacks' process.
"They are unpredictable scrum to scrum, they can often change things up. The French have always had a pretty disruptive scrum. It is definitely a challenge," he said.
If they didn't get the outcome they wanted at a scrum they would change and try something different at the next occasion.
It could be anything, adjusting the height, pulling back, changing the angle, anything, he said.
Being involved in a scrum like that which saw Karl Tu'inukuafe have an immediate impact when coming on as a substitute to unsettle the French was 'a bit of a high'.

WATCH | Just how good was Ngani Laumape's rampaging try against France? Let Brodie Retallick talk you through it!

??? Get your #SteinlagerSeries tickets here: https://t.co/D3P787uaoq pic.twitter.com/KvyYCUqUHZ— All Blacks (@AllBlacks) June 11, 2018
"It's a rush really, it's such a tough contest and then when you finally get one over the opposition pack, it's a pretty good feeling but on the other side you want to do a good job on your ball as well because you don't want that feeling, conversely. When that happens to you it's the worst feeling for us," he said.
The feeling was likened to having a good hit with a cricket ball when you didn't really feel the impact of ball on bat because the timing was so good and you knew you were on to a good one.
Franks said he was comfortable coming back after his Achilles tendon injuries. He was a little rusty when first playing but had put in the preparation and experience and muscle memory had been a big help.
"It's more just getting the confidence there. The All Blacks, in a way, are easy to come into because everyone's so professional and everyone does their job so it makes it really simple. If you do your own job and focus on doing that well everything just falls into space," he said.
Franks said he reached the stage where he played through the pain without realising the effect it was having on his play.
"I've watched tape of myself running last year and it's horrible to watch. I'm not a great runner anyway," he said.
No.8 Luke Whitelock said following his exposure to the All Blacks when called up after playing for the Barbarians against the New Zealand team last year he went away with work to do on his ball carrying, attacking and getting into position to be able to attack and being effective with the ball in hand.
"I think it has definitely improved and like anything I can get a lot better at it too," he said.
Whitelock said in filling in for Kieran Read he could only try to be the best he could be.
"Obviously Kieran is coming back from injury but I guess when you get an opportunity you've got to take it with both hands and try and make it your own," he said.
Who played well? Who deserved a start? Who's the next star? Become the selector, pick your All Blacks Starting XV and if you select the correct team named 14 June, you could WIN tickets to the next Test!

ENTER HERE: https://t.co/z4zOZn2SKq#SteinlagerSeries #PickYourXV pic.twitter.com/JcKjGW5mJa— All Blacks (@AllBlacks) June 11, 2018