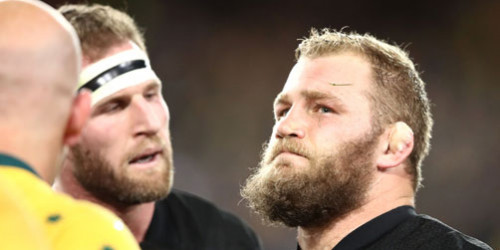 All Blacks coach Steve Hansen said at his Thursday press conference ahead of the game that Franks could be out for some time and team management were looking at how they were going to deal with it.
He said the injury could no longer be managed without being detrimental to Franks' performance.
"We've just decided to make sure that we've still got a rugby player in the future that we will put him aside and take a look at how we are going to treat it," he said.
---
The team doctor told Hansen the injury was like knotted hair, except it wasn't hair it was his tendon. There were two ways the injury could be fixed, one was the conservative approach of continuing to train but not as hard and without the game load so that he had rest periods and training which should see the injury come right.
But if it didn't improve there was an operation which was akin to combing the tendons, he said.
Because Franks had been having the injury managed by both the Crusaders and All Blacks camps, the Dunedin Test had always been targeted as his last game before they decided on a plan for him.
Nepo Laulala will start Saturday's Test and Hurricanes prop Jeffery Toomaga-Allen has been called in as a replacement.
Hansen said Laulala was preferred to start ahead of Ofa Tu'ungafasi because he was more the specialist at starting out while Tu'ungafasi had more to offer around the field when coming on as a substitute.
Laulala's core roles were good and his scrummaging had advanced but they were still seeking more agility from his game and they were working with him on that.
Hansen said reviewing the final 30 minutes when the team had lost shape, defensive effectiveness and the teamwork that had marked the first 50 minutes, that it had been 'quite handy' and had 'brought people back to Earth'.
Australia hadn't played a game for four weeks before last weekend's Test against the All Blacks, and it was similar for New Zealand when teams were knocked out of the Super Rugby playoffs. That was why they played their game of three halves.
"You need to be able to play the game. To be able to play with the intensity and pace that Test level brings you've got to be able to play. They'll be a lot sharper of mind and body, they'll be desperate because things in Australia…there's a lot of negativity and one of their responsibilities is to try and put some smiles on some faces.
"They'll be hurting so that will make them even hungrier than they have been and they know that if they don't get it right this week then there's the Bledisloe gone. They'll be a very dangerous beast," he said.
Hansen said the All Blacks would pay tribute to All Black legend Sir Colin Meads who died at the weekend before the match. Sam Whitelock will present his jersey to the Meads family and the All Blacks would also recognise Meads in another, as yet, undisclosed way.