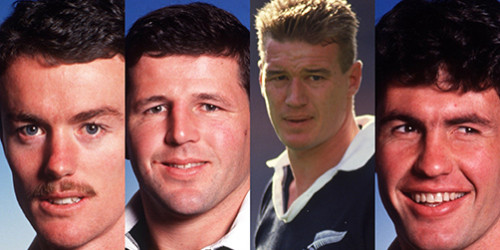 This was the time when New Zealand's rugby relationship with apartheid South Africa finally hit a wall. After the disharmony created by the 1981 Springbok tour of New Zealand, the protracted legal case that prevented the 1985 tour taking place and the subsequent rebel tour of 1986 which resulted in a two-Test ban for participants, the public had had enough.
---
QUICK TAP: 1995 WORLD CUP POISIONING RAISED AGAIN IN SOUTH AFRICA
---
A one-off Test commitment against France had to be fulfilled during the time of the players' ban and a nearly new All Blacks team - only four players, David Kirk, John Kirwan, Arthur Stone and Brian McGrattan had played Tests - was selected to take on the might of a French team overloaded with class.
Kirk, along with Kirwan the only players not to tour South Africa, was named captain of the side and rather than look to the assignment with trepidation he recalled the buzz and excitement around the Test.
"I recall some scepticism from all the old heads that there was no way 'these young guys' could win. They were a great French team and they would crush us in the set pieces was the feeling at large.
Kirwan recalled in Behind the Silver Fern the side never doubted it could win.
"We had a simple game plan about putting them on their arses, making them go backwards and hurting them, and we picked the team accordingly. New Zealanders are great when they've got their backs to the wall and it was a moment in time where the boys had chosen to go to Africa and the boys who stayed behind said, 'You're not going to get your All Blacks jersey back'. A lot of us went into the game with that sort of attitude," he said.
The man charged with making something out of the situation was coach Brian Lochore. The players remarked afterwards on the serenity Lochore presented ahead of the Test.
Fullback Greg Cooper said: "BJ Lochore was so calm. He did a superb job of making the guys feel like they were good enough to be there, that we were the All Blacks. You could feel it building during the week…not to the point where we thought we were going to absolutely win, but by the time the game came around we were comfortable with what we were doing and feeling pretty confident that we could go out and do it."
EPIC RIVALRY! One of the All Blacks greatest rivalries will reignite in 7? days when the #SteinlagerSeries begins against France. ????????

Get your tickets to watch history unfold between two of rugby's most respected opponents. ???: https://t.co/jJvZEf9vhK pic.twitter.com/0VkeXTTKww— All Blacks (@AllBlacks) June 1, 2018
France came to New Zealand from Argentina where there had been, not untypically, some turmoil in their camp.
Future All Blacks captain Sean Fitzpatrick made his Test debut in the game, coming in at a late stage when first choice hooker Bruce Hemara broke his ribs at training.
"I remember the ball being kicked off by Greg Cooper. It was like 'I'm finally an All Black' because my feeling was I wasn't really an All Black until the ball was kicked off. Every scrum was like a washing machine. We got absolutely pummelled but Boro [Kevin Boroevich] and Gratts [McGrattan] would get back up and we'd go again," he said.
Centre Joe Stanley created havoc among the French outside backs catching them behind the advantage line before they could get their trademark passing game into action.
Kirk realised after about the first quarter that the French weren't playing well.
"It didn't feel like they were playing at their most aggressive, or most effective, which was a little bit of a relief. It did feel like we were able to play the sort of game we talked about," he said.
While the scrum was under pressure they had players who were able to cope.
"We hung in there and took our opportunities and scored a good try. In a way it was opportunist with a chip ahead, a regather and a couple of passes and a try. It was a good try from not a lot out of the mid-field, but they didn't look like scoring," Kirk said.

?? Break out the popcorn! All or Nothing: New Zealand All Blacks is now available to stream on @PrimeVideo! ??

WATCH: https://t.co/If6hiwT3xa pic.twitter.com/M2Di9kMu6o— All Blacks (@AllBlacks) June 1, 2018