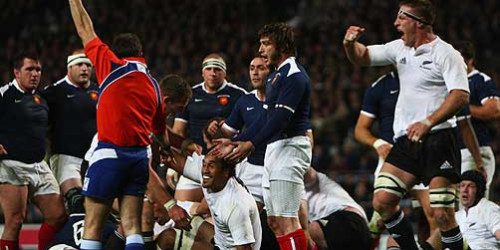 French team manager Jo Maso said it was the right thing to do, thanking the public while acknowledging the privilege of playing in New Zealand's rugby premier ground.
"(We want to thank for) the welcome...received from the people of New Zealand, the faultless organisation of the tournament and the honour and pleasure of playing the 2011 Rugby World Cup final in the legendary stadium of Eden Park," he said.
There is a belief that the International Rugby Board's (IRB) states that the away team change their strip if there is deemed to be a clash of colours, but there is still some confusion as to the exact letter of the law, with the All Blacks wearing their away strip in both home and away test matches.
The policy seems to alter in rugby, unlike strict enforcement of 'away change' in most sporting codes, with the All Blacks forced to wear their away strip when playing outside of New Zealand.
In 2009 Adidas, celebrating a ten-year association with the All Blacks, released a new all white 'away' jersey, changing from the grey strip that New Zealand was forced to wear against Scotland and France in the World Cup of 2007.
The forced change in the 2007 quarter-final was exasperated by the French unveiling a new dark blue shirt – courtesy of Nike – that was not the lighter shade seen in previous Les Bleus outfits, which meant a clash with the All Blacks jersey, and a subsequent wearing of the grey away strip.
The new 'all white' All Blacks jersey was then worn by the team in 2009, when they defeated France 39-12 in Marseille.
However captain Richie McCaw was then interviewed in the traditional All Black jersey after that match, putting it over his white away strip, saying this was 'our colour'.
The team's early uniforms consisted of a black jersey with a silver fern and white knickerbockers, although the first overseas New Zealand rugby tour in 1884 saw the All Blacks (prior to being coined their famous moniker) in a dark blue jersey with a gold fern.
In 1893 the New Zealand Rugby Union decreed that the uniform would be a black jersey with a silver fern.
All Blacks coach Graham Henry appreciated the gesture by the French.
"We're the All Blacks, we're playing at home and we wear black, so it's an obvious one," he said.
"But I do thank him (Maso)."