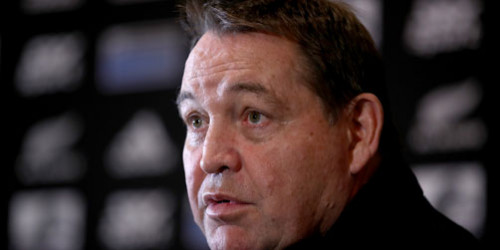 Down on experience with key Super Rugby champion Crusaders left at home, the All Blacks have opted to give emerging Test players their chance to experience the heat of international rugby.
The immediate prize is a place in the reduced All Blacks squad to contest the Bledisloe Cup Tests, with a longer term chance to be included in the 31-man Rugby World Cup squad that follows. Beyond that the ground work is being laid for 2020.
Coach Steve Hansen, who is heading into his last campaign with the side he has led since 2012 and been involved with since 2004, said in Buenos Aires when announcing the team that there were players in the side who were undoubtedly the future of All Blacks rugby.
"Some with 10 or 15 caps might not be given another opportunity [ahead of the World Cup in Japan] and some with none may well do," he said.
Hansen was also mindful that while he won't be involved in the future a foundation for the new coach also needed to be presented.
"Whilst you've got to look at the here and now, you've got to take the future into consideration. That opportunity has been afforded us because we haven't selected Crusaders. We are looking to the World Cup, but beyond that as well," he said.
Hansen said the non-selection of wing Rieko Ioane was an example. He was 'a very, very good Test player' but they needed to take a look at Sevu Reece, who will make his debut in Buenos Aires in the starting XV, and Braydon Ennor, who is on the bench.
"We need to find if Sevu is up to the next level, and find out about Braydon who plays midfield and wing," he said.
Second five-eighths Ngani Laumape had worked on his game and Hansen said he was a driven player.
"You've got to give Ngani a 10 out of 10 for how hard he is trying. People like that will eventually get rewarded," he said.
Vaea Fifita was given the blindside flanker's position ahead of Dalton Papali'i and Hansen said they wanted him to carry on from where he left off on the end of year tour in 2018.
"It is one thing to be a talented athlete, another to be talented with the work ethic. He showed that in the Italy game and we'd like to see it again," he said.
The thinking was also applied to the inclusion of Luke Jacobson as blindside cover on the bench.
"Luke has been given the opportunity to show us what he is about. We'll see if he can cope with the week and go out and play," he said.
The selectors had taken the chance to give halfback TJ Perenara a break, largely due to the amount of rugby he had recently compared with Aaron Smith while it was a chance to find out more about Brad Weber, who is on the bench.
"He [Weber] has shown leadership qualities at the Chiefs which allows him to be pretty comfortable in the environment. We expect him to play a big part in the game," he said.