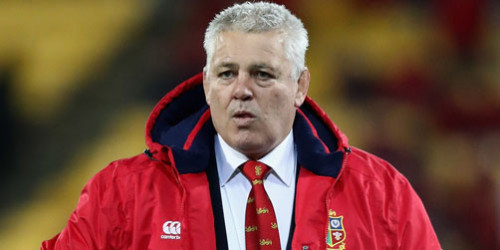 The Sunday Telegraph reported the Lions board agreed at a meeting two weeks ago to try to agree terms with Gatland with in a month.
Gatland ends his 12-year stint as Wales coach after this year's Rugby World Cup in Japan and has been mentioned as a possible contender to replace Eddie Jones as England's coach.
If that happened it is understood his appointment as Lions coach would not prevent him taking on the England job. Jones' contract runs through until 2021 but that may allow him to undertake a mentoring role which meant Gatland could be available to taking on the England job before Jones has moved on.
Three-time Grand Slam winner Gatland was reported to take on the Lions job, which would see him achieve a complete set of Australia, New Zealand and South African tours as head coach.
The Sunday Telegraph said of the former All Blacks hooker, "Despite his frustrations at his treatment by some sections of New Zealand's media during the 2017 tour, he is known to love the Lions concept. As he was part of the management team on the tour of South Africa in 2009, when the series was lost 2-1, there is likely also to be a sense of unfinished business."
Gatland would have the backing of the Welsh Rugby Union which would like to see the negotiations completed before Gatland is involved in Wales' World Cup preparations.
New Lions chairman Jason Leonard is expected to head the negotiations team.
A senior Lions source was quoted as saying, "Warren is our No.1 choice. He understands the Lions and the unique challenges of touring. He has already proven his ability to put together a successful touring squad, not just in picking form players but also the right kind of personalities and characters that make the Lions so special."