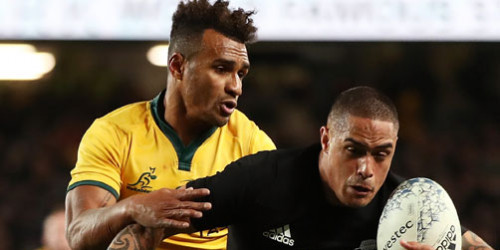 During his career he has appeared 24 times in Tests against New Zealand and only been on the winning side three times.
---
QUICK TAP: CONOR MURRAY OUT OF ALL BLACKS TEST
---
It was something of a love-hate relationship for him.
"You get sick and tired of losing to them but you also love playing them," he said.
"For me that's a privilege because I love playing the best so you can't get hung up completely on the fact that we lost and the disappointment.
"I'm probably at a point where I appreciate every opportunity more than I ever have before playing against the best team in the world," he said.
Much like the All Blacks have been saying about Saturday's Test, there was still plenty hanging on the game.
Genia said against the All Blacks, more than any other team, it was never a dead rubber whether the Bledisloe Cup was on the line or not.
"It's an amazing experience to get to play them every time because they've been so good, and so consistent for so long. Regardless of where you are in the sceme of things as a team it's always a barometer to see where you're at.
"There's been no talk about dead rubbers, and there never is, it's just about concentrating on the day to day and what an opportunity to play the All Blacks here in Japan," he said.

UPDATE | How crucial is a good start to the Vista Northern Tour going to be for the #AllBlacks? ?? Check out assistant coach Ian Foster's thoughts on the importance of this weekend's match.

READ ?? https://t.co/i6uDDd2i3T pic.twitter.com/da17nsClwB— All Blacks (@AllBlacks) October 24, 2018
Not surprisingly the Wallabies have been looking to concentrate on their defence against the All Blacks. At the same time they would be seeking to knock the All Blacks off their game tempo.
That involved denying the opportunities to play quickly, whether from quick lineout throws, or tap penalties. It was about preventing them playing at the pace they want.
Other variations on the theme were: "As an example, kicking the ball and we put it out, making sure we chase and don't give them the opportunity to play the quick lineout," he said.
"Also getting set quickly in the lineout so they don't play at the pace they want, in terms of getting the jumper up quickly.
"Just managing the pace and tempo of the game and playing it in a way we want to play.
"The way that the game goes, they're going to get the momentum, they're going to want play at that tempo, but making sure we have the opportunity to control the game in that sense as well," he said.
Genia said Australia would take confidence from their second-half comeback to beat Argentina in their last game.
"It's not secret, we haven't been consistent in terms of results and things have been down, so to get some reward for the work that we're putting in that certainly gives us a lot of confidence moving into this weekend," he said.
A bit of sushi tasting and Samurai training from earlier in the week with @PattyTuipulotu and Dalton Papali'i in Japan ahead of this weekend's third #BledisloeCup match against Australia. ?????? #NZLvAUS #TeamAllBlacks pic.twitter.com/VLHs838tas— All Blacks (@AllBlacks) October 23, 2018