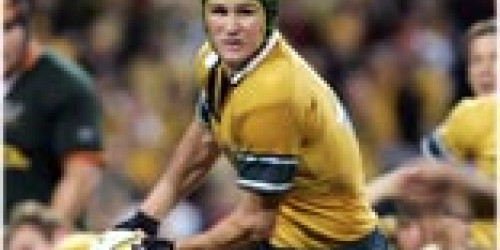 Giteau, who has been out with injury since the last stages of the
Rebel Sport Super 14
competition, has replaced Mat Rogers in the starting XV.
He is expecting plenty of pressure to be applied on him by the South Africans through their rushing defence.
Giteau told the Sydney Morning Herald, "If they make the tackle it's a big dominant hit, if they miss it's a line break.
"At times that rush-up defence can affect us and distract us and put us onto the back foot and there's sometimes again we can break.
"As long as you can execute well enough any defence is able to be beaten," he said.
Johnson described the Springbok defensive style as 'high risk, high reward' and for a player with Giteau's ability on his feet, it made him a harder target to line up.
"They're coming at you with such speed it's nice to use feet, it's hard to hit dancing targets," Johnson said.
"He shows that it's not just a big man's game."
Johnson said Giteau has extreme talents which could take advantage of the South African approach.
"There's probably nothing that Matt can't do on a rugby pitch and we're extremely fortunate to have the likes of both him and Mat Rogers in our midst," Johnson said.
Meanwhile, the Australians have been unimpressed with news that the Springboks offered $100 to a player who could come off the field with one of flanker George Smith's dreadlocks in the Perth Test of 2004.
Springboks forward AJ Venter had made the offer and during the game emerged from a ruck with a dreadlock.
Smith was unimpressed when informed of the disclosure made by Joe van Niekerk in the Cape Argus newspaper earlier in the week.
He said he would react to anyone pulling his hair.
"I hope the referee will take into account if anything does happen. If they continue to have that bet, I guess I have to refer it to the referee," he said.