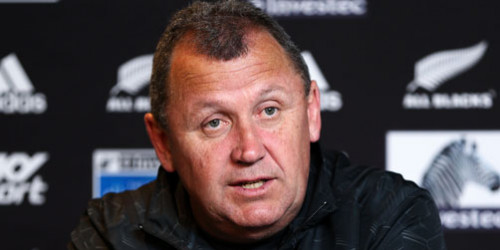 Foster said he felt the All Blacks were in a good spot. They had come through a tough Investec Rugby Championship where they had been challenged, especially by South Africa, but they could still get better and smoother in some areas.
---
"I think with the changes, the number of players we've used, the different opposition and overall I think we're building okay," he said.
The next five weeks would be about taking the lessons from the Championship and applying them against teams who would be slightly different.
There were some areas of the All Blacks game he felt they were doing as well as they had ever done and they were pleased with some aspects of their game they had been trying to grow in recent years.
They were learning to win in different ways, as a result of being forced to cope with defensive strategies from opposing sides whether that was a result of being forced to kick more or dealing with rushing defences.
With the Bledisloe Cup already in the trophy cabinet that wasn't the main issue heading into Saturday's Test. Last year, when the sides faced the same dead rubber game, the Australians had lifted and taken a win from the All Blacks.
"The beauty of this one is it is Test one of a tour and it is really important for us that we start well. We've got some other games coming up and you really don't want to be trying to rebound from a poor performance in game one," he said.
Foster said that while there was a Test against Japan to follow Saturday's Test, they hadn't looked that far ahead. While they were trying to replicate, in advance, the sort of things that would happen at next year's World Cup, they still had to concentrate on the now.
Yet, the World Cup was also about thinking only about the next game and not getting ahead of themselves.
"I think what we are doing here and now is great preparation for the future, it's mental preparation. It's about us learning to concentrate on the one challenge in front of us and dealing with it in the way we want to deal with it," he said.
"We know that if we don't do the one at a time well enough that we get bowled and we also know that it's one thing to say you're doing it and it's another thing to actually train yourself in your group to have the mental discipline to actually believe that and not let your mind get too far ahead," he said.
Foster said he was pleased with the way first five-eighths Richie Mo'unga had eased into the All Blacks' system and by introducing subtle shifts, as had Damian McKenzie, the side were developing good options in their playmakers.
It wasn't something new as they had experienced similar points of difference when Dan Carter had Aaron Cruden and Barrett behind him.
Foster said the injured members who had rejoined the side had recovered well, especially hooker Dane Coles and prop Nepo Laulala after their respective game time with Wellington and Counties Manukau.