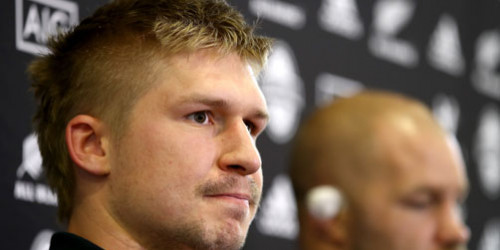 It has been a long time in the making given several false starts due to late withdrawals by Goodhue, one of them being when hit with glandular fever, something he said his mother's chicken soup proved useful in his recovery.
---
Goodhue said he wasn't sure what to expect when first told he had glandular fever, he had heard some horror stories, but he was feeling 100 percent now and ready to play.
He was looking forward to playing with Williams on Saturday.
"Sonny is cool under pressure. He's always around for a wee offload that can put you into space. He's a good guy, he's a good communicator and there's plenty to like about him," he said.
While Williams and Ryan Crotty were different types of players he had learned a lot from both of them.
Goodhue wasn't fazed by the prospect of playing in front of 80,000 at Twickenham. He hadn't done it before but didn't imagine it would be much different to playing in front of 50,000.
"It's just a lot of people isn't it? It'll be a little bit louder but I'm just going to go through my processes, prepare well, try not to think about it and play the game I've been playing since I was a little kid and do my thing," he said.
Tighthead prop Owen Franks said his enforced delayed start to Investec Super Rugby due to his recovery from Achilles tendon surgery meant he was feeling fresher than usual at this stage of the tour and it was certainly different to other end of year tours he had been on.
Compared to a typical season he was probably only about halfway through his usual number of games and was feeling good as a result.
The injury itself was improving the further out from when the surgery occurred and it was feeling strong, he said.
Now that he is paired with Karl Tu'inukuafe in the propping duties after Joe Moody's forced withdrawal due to an eye injury, Franks said he had been impressed by Tu'inukuafe's nonchalance since coming into Test rugby.
"He takes it all in his stride, that's probably the thing that impresses me the most. He's pretty relaxed but he can turn it on when he needs to," he said.
He wouldn't need a lot of advice about England, he had played a lot of rugby in France's second division which was renowned for its scrummaging.
---
"He's new to Test rugby but he's been around the block for quite a while, he's had the scrummaging experience and he'll be really excited by it.
Franks said while the England props were not well known he had been able to talk to his brother Ben about them as a result of his experience in England and he had done some due diligence on them from the South African game.
Loosehead Ben Moon had 10 years of experience in the Premiership and was a destructive scrummager while replacement prop Alec Hepburn had really sound technique and looked the type of player who liked to have a crack and both looked like really tidy props.
Thanks for having us @McLarenF1, can we take it for a spin next time? ??? ??#TeamAllBlacks pic.twitter.com/erLRTGue3D— All Blacks (@AllBlacks) November 8, 2018