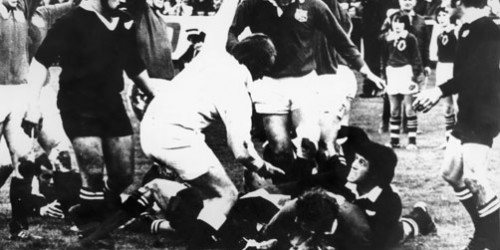 Ireland No.8 and former captain Willie Duggan, the man who nearly scored what would have been a series-equalling try for the 1977 British & Irish Lions in the fourth Test against the All Blacks at Eden Park, has died aged 67.
New Zealand won the fourth Test 10-9 due to a late try scored by Laurie Knight, but in the few moments left in the game, Duggan almost scored but was unable to get the ball to ground in a maul.
---
QUICK TAP: ALL BLACKS AVAILABLE FOR MITRE 10 CUP DUTY
---
Duggan, who played all four Tests, said of the tour, "The first Test they won by an interception by Grant Batty, the second Test we won and in the third Test we were annihilated. And in the fourth Test I got over in the last minute but couldn't get the ball down."
Duggan, who suffered a suspected heart attack at his home in Dunmore, County Kilkenny, played 41 Tests for Ireland between 1975 and 1984.
One of the most charismatic players to play for Ireland, he emulated the late Sir Colin Meads in avoiding the shame normally associated with being ordered off in a Test.
Duggan's dismissal, the first by an Irishman in a Test, occurred at Cardiff Arms Park against Wales in 1977 when he punched lock Allan Martin in retaliation for something lock Geoff Wheel had done. Both Duggan and Wheel were dismissed, the first players sent off in 100 years of Five Nations rugby, as it then was.
Duggan reportedly said he hadn't been sent off, because referee Norman Samson had asked him if he would 'mind leaving the field'. Fellow forward Moss Keane said Duggan's response to Samson was, "Sure not at all, I was bolloxed anyway."
?
Keane said of Duggan, "He was a very good rugby player and he was an enigma. He never believed in training and his brain was unreal."
Duggan's former team-mate for Leinster, Ireland and the Lions, Ireland Rugby Football Union president Phil Orr, said, "In all jerseys he was a warrior in the finest sense of the word. But it was not just in his physical presence. Willie had an extraordinary rugby brain and had an uncanny ability to see problems and opportunities on the field well ahead of team-mates and opposition alike."
Duggan was a notoriously heavy smoker. He said he always smoked before a game because he was nervous and it helped him relax. In one Test against France he was smoking a cigarette as he ran onto the field when he asked referee Allan Hosie if he would mind holding the cigarette for him.
One of Duggan's coaches told him if he gave up smoking he would be faster around the field but Duggan replied: "But then I would spend most of the match offside."
Duggan rated the second Test of the 1977 series against the All Blacks as the most physical games of rugby he ever played in.
"It was a real humdinger of a game. It was a game we had to win and when I say it was physical, it came to fisticuffs and whatever had to be done was done. It is what I would call a good old-fashioned game of rugby where the referee didn't get involved. I believe there shouldn't be a referee on the field. Let the lads sort it out themselves," he said.
"It's my view New Zealand have never seen a pack of forwards like this before. The eight guys we had were so physical but we also all had rugby skills. We were able to match them up front for strength, aggression and will to win."
Go inside the #AllBlacks sheds following the 2nd #BledisloeCup Test with this #TeamAllBlacks exclusive.

FULL VIDEO: https://t.co/xPV5ZJY18U pic.twitter.com/N0m4PKF8TR— All Blacks (@AllBlacks) August 27, 2017