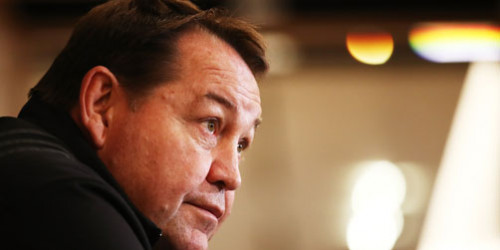 Fifty-one players had been in Japan at one stage before a group of 23 flew out to England during the week to prepare for the November 10 Test at Twickenham. That left the remainder of the group to prepare for Saturday's Test against Japan in Tokyo.
---
Such use of players was necessary because of the demands of the modern game.
When critics claimed they didn't give Test caps away so easily in the past Hansen's response was that they only played four or five Test matches a year and six or seven provincial games in the past.
Today they were playing 14-15 Test matches alone, without considering their Super Rugby commitments, and you couldn't ask the same people to do it all the time while playing to the level expected of them.
"Over the last few years we've looked at different ways of trying to skin the cat," he said.
"Last year we split the squad to Argentina and South Africa. This year the opportunity to play the Bledisloe up here [Japan] was too good to turn down because of the opportunity to experiment and get a feel for Japan and the idea of having two weeks here was better than one, hence we asked to play Japan."
Once it was decided to do that it was then a case of how that affected playing England, Ireland and Italy. By taking extra players they were winning all round. They were getting to see more players, how they coped and as a young side they would be under pressure on Saturday.

Squad. ????????#JAPvNZL pic.twitter.com/WOPcZa5xV4— All Blacks (@AllBlacks) November 1, 2018
How they performed would contribute to making sound judgments next year ahead of the Rugby World Cup.
Japan had done well since the 2015 Rugby World Cup, they had beaten France and they had to be respected. There was a risk in what the All Blacks were doing with a less experienced side but the reward was greater than the risk.
Japan would play at 100 miles an hour, and very skilfully.
"They like lightning-quick ball, they don't want a physical type contest a la South Africa or Argentina, they want to hit and run. They'll take quick taps. Brownie's [Tony Brown] coaching them so he'll come up with one or two little tricks for sure. He's innovative. And at the same time they'll do the basics well because Jamie [Joseph] is strong on that.
"We just need to be awake all the time and if we haven't got the ball switch on and don't switch off. When we do have the ball engage them and make sure we can control the game by controlling the football," he said.

From the outset of the week it was a case of not over-coaching the newer players or over-complicating things while at the end of the week the players should be in a position to trust their instincts.
"It's going to be a big occasion for them and a testing one. I think Japan will be a good side to play against," he said.
"People are entrusted to enhance the legacy and the expectation is that they go out and play well and for them to do that we have to go out and coach well and give them a platform to be able to do that."

When ?? meets ?? Join us behind the scenes as the #MaoriAllBlacks and @BlackFerns go courtside at the @chicagobulls and @nuggets game for a mid-match challenge!#USAvNZL #TheRugbyWeekend pic.twitter.com/6DzM1RgCYp— All Blacks (@AllBlacks) November 1, 2018