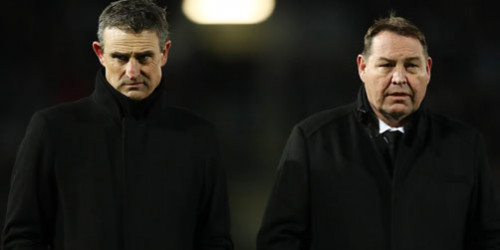 The comparison came down to the game management in both instances.
The 2007 loss in Cardiff was the other time a game had been so poorly managed, he said.
---
QUICK TAP: ALL BLACKS SQUAD FOR ARGENTINA AND SOUTH AFRICA NAMED
---
And in both games it had been the pressure of the scoreboard and the pressure of the event.
"We got really individualistic and tried to do it all by ourselves. All we had to do was take a big breath, and take a shot at goal at the 66th minute. That gives you three points and then you score a try and that gives you the eight points you need to get in front. That's one example," Hansen said.
"A dropped goal wouldn't be bad either would it? And we couldn't do one of those in '07 either because it wasn't the thing the five-eighths at that time was used to doing and it's not the one that Beauden's [Barrett] done. I don't think he's ever done one before.
"Learning those things, they stay with you because it really hurt and this team hasn't had much adversity," he said.
Hansen said the big thing for the All Blacks would be learning from the loss.
Defence would be another area of attention and he defended new coach Scott McLeod in the wake of criticism of the fact the All Blacks leaked five tries; two of them were from an attempted quick throw-in and an intercept while the third was from a driving lineout maul.
"I think it is too easy to turn around and say it is the defence coach, like many people have.
"Our defence coach is going to be one of the best coaches in the world given time," he said.

NEWS | Rieko and Akira Ioane have both re-committed to New Zealand Rugby until 2022 and 2021 respectively. Who's excited to see these two brothers stay on home soil? ??????

READ ?? https://t.co/QiZc59UYf5 pic.twitter.com/C5NXPKieKN— All Blacks (@AllBlacks) September 20, 2018
"Having said that our game management was the biggest problem. It's partly the leadership, it's partly my fault because I haven't given them the understanding to what to do.
"No-one is going to get hung out to dry because of a loss, we've all just got to learn from it," he said.
Argentina's mindset had been the biggest improvement in their game.
"They're believing in themselves, they're believing in the game they want to play and it's not just a crash-bash game, it's involving everybody and when you do that it makes it harder for the defences to look after you.
"They've got some quality backs. They've always had quality backs and now they've decided they want to use them and they're a handful," he said.
Hansen explained captain Kieran Read would not be travelling to Argentina as a result of his recent back surgery. It was felt two long-haul flights would be an issue for his back so he will join the side in South Africa.
His place in the side had been taken by Vaea Fifita who had been playing Mitre 10 Cup rugby with Wellington.
That would mean the side would have inexperienced players at No.8 and on the blindside flank but Hansen said they were good players and it would be a case of making sure the players were comfortable both in their role and the team environment and clear about what they are going to do.
"One of those new players is Shannon Frizell and he didn't go too bad last time," he said.
Wing Rieko Ioane's decision to sign with New Zealand and the Blues until 2022 was great for the game.
"He's a special player and he's only at the beginning of his career and whatever he's done so far with maturity and greater game understanding he's just going to get better and better so it's very exciting," he said.
?? Why is Kieran Read not going to Argentina? What did the All Blacks learn from their loss to South Africa? Steve Hansen answers all of this and more before the squad flies to Buenos Aires to take on the Pumas. pic.twitter.com/oF6SrJVe02— All Blacks (@AllBlacks) September 21, 2018