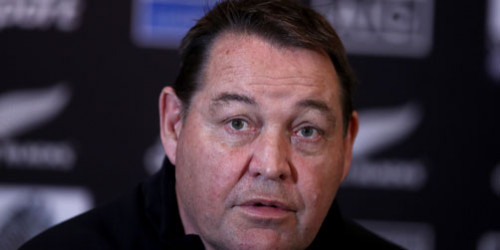 That's when his contract with the side ends and so far as he was concerned he still had a job to do.
---
QUICK TAP: JAGUARES CONFIDENCE COULD HELP PUMAS
---
Hansen said he hadn't thought anything about the fact the World Cup was his last assignment as coach.
He took the view he had a job to do and was 'really excited' about it.
"It's a privilege to be part of the All Blacks and my part is the head coach so it's really important that I turn up and do the job and be present and not worrying about what's going to happen after the World Cup.
"Right now we've got two weeks to get ready for Argentina so it's pretty important I don't get too carried away with last hurrahs. Let's just enjoy what we're doing and get really excited about that and do it really, really well. We'll have a beer after it's all over and then it'll be good," he said.
Hansen said the week in Auckland had been about getting everyone, from their different franchises, on the same page for the All Blacks and getting a feel for the All Black way on and off the park.
"There was some new stuff that we wanted to work away quietly at today [Thursday] which we did, making sure that we've got the basics of our game understood and the clarity of our game," he said.
The squad would return home for the weekend and be back in Auckland on Tuesday before flying out for Argentina on Friday evening. However, those Crusaders who haven't been part of the process will join the squad on Thursday next week and would remain in Auckland until Sunday when they would be brought up to speed by the coaching team, who will remain in Auckland until Sunday before flying out for Buenos Aires.

? Luke Jacobson and Josh Ioane looking good in black! pic.twitter.com/mOiQ4oZjGY— All Blacks (@AllBlacks) July 4, 2019
The Investec Rugby Championship remained the third priority for the year. They were going into the Argentine Test and South Africa Test without some of the Crusaders players who needed the rest after their tough campaign and that meant making some sacrifices to allow the side to focus on winning the Bledisloe Cup and the Rugby World Cup.
"We may have to take some risks but hopefully we get the reward for taking those risks," Hansen said.
While some of the extra players would get game time, the important thing was they understood the All Blacks' environment so that if something went wrong at the World Cup they weren't coming in blind to the side.
The World Cup was much closer now and Hansen was happy with it starting to come into the frame. What the All Blacks were trying to do in winning it for a fourth time had never been done before, and making it three consecutive wins was a massive challenge.
"We've got to go and recapture it. We don't own the World Cup so it's been given back and we've now got to go there and play the best that we can and do our best to recapture the thing so we have to walk towards that pressure rather than try to hide away from it.
"But the reality is we've still got Test matches to play. The key challenge for us is to play good footy, winning footy, but to start to really master the execution of our game and the things we are trying to do on the park get better and better at that and to do that we've got to have really good decision-making and good skill sets to go through that," he said.
"I don't think we'll set the world on fire but I know whatever we do we in that first Test we will do better in the second, third, fourth and fifth ones. We won't panic too much about getting everything right but there is some things we will really identify that we want to get right," he said.
Skill sets were a constant work-on.
"It would be arrogant of us to think we've got it all sorted." He likened the skill development to that of golfers who were always looking to advance their game and rugby was no different.
"To be able to pass on the run off the wrong foot so you can get a ball away is a tremendous skill. Not everyone can do that so you go away and work on it. Something as simple as catching and passing the ball accurately allows you to do more things the better you can do that. You'd be foolish to think that we've mastered all of that," he said.
How good does the team look in their new gym gear ??

Get your own @AllBlacks training kit here ?? https://t.co/5jhM9mRXvG pic.twitter.com/5xDpw3zQmJ— All Blacks (@AllBlacks) July 4, 2019