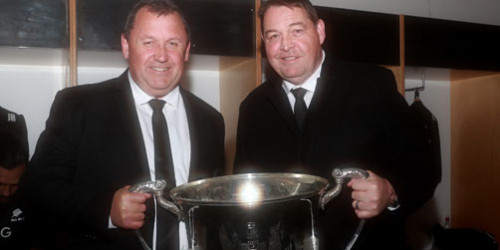 Speaking after Saturday's 36-0 win over the Wallabies at Eden Park, Hansen, who has played down the grand last tour in his last season with the side, said it would be nice to be able to say 'not on my watch', in relation to the Cup tenure.
He was first involved when coming in under Graham Henry in 2004 and then took full control in 2012.
Turning around the 47-26 loss suffered in Perth to retain the Cup in Auckland had made him 'extremely proud'.
"We had to respond to a performance last week that people say wasn't good enough from our point of view, and an exceptional performance from Australia. Seven days is a long time in sport, we have seen that before. This week they've worked hard and everyone's done their job from the analysts right through to the players
"You take a lesson that we've all learned in life, many times that if you get comfortable, you're going to get a punch in the nose. You've got to be comfortable being uncomfortable.
"Unfortunately, sometimes when you're successful, that doesn't happen. Eventually it catches up and it bites you. I was just really, really proud of the boys how they responded to last week. There's been a lot of things said in the media and a lot of things spoken about within the team that creates the pressure that you have to step up to the plate," he said.
Hansen said skipper Kieran Read had led from the front after catching a lot of criticism.
The side had gone into the week knowing that they had not performed well.
"We got towelled up last week and I'm not sure that any All Black team has ever enjoyed that experience. This one certainly didn't. So it was reasonably easy to say that they were in the house. What we couldn't see was where Australia. And it only takes a little small degree of change. And maybe they weren't in the same place they were a week ago.
Both teams are very talented and both teams will go to the World Cup with chances of winning it.
Hansen said in relation to the play of wings George Bridge and Sevu Reece that you didn't place people in the team if you didn't expect them to be able to play at that level.
"I said during the week that we've seen them enough for them to know that they can cope with being an All Black and what a wonderful opportunity to see if they can cope with the pressure of such a big occasion and I think everybody saw what happened. They played very well," he said.
The yellow card suffered by hooker Dane Coles had been another dumb play. There was an element of frustration involved with inconsistencies but he should not have been in that position.
"But to his credit, he came back on and did what he needed to do and got his head back in the game. It's a constant work on for Colesy," Hansen said.
Captain Kieran Read said the side started well compared to the Perth Test and even when reduced to 14 men late in the first half they had the mindset to cope.
"The guys were up for it so I wouldn't have mattered so much when you go to do 14 men when you're in that mindset," he said.
With wet weather just before the game, the All Blacks had heightened their desire to go out and control the game.
"I think it's a great confidence boost for us but I think it's the week that's probably the biggest lesson for us. Knowing how to prepare ourselves to get into mental state and physical state to put in performance like that, so that's the key for us as leaders and guys in this team to make sure we bottle it I guess and use later in the year," he said.
So far as the loose forward combination with Sam Cane and Ardie Savea was concerned, Read said, "I think combinations for us will get better as we play together but physicality is where the loose forward players it gets won or lost on both sides of the ball.
"So tonight was an example of where we need to be. So in combination with those two, you can have impacts across the park and it works well for us and tonight was the occasion we were all up and ready to go and so I think it was just the more you play together you get used to each other."
Hansen added that it just wasn't the trio, Matt Todd had come on and complemented their work.
Assistant coach Ian Foster said he was pleased with centre Anton Lienert-Brown's effort.
"He's had a great year right through the year and tonight we saw he is a bit unorthodox. He doesn't run lines that everyone else runs but he finds a way to do things. It's his work rate going back and forward that holds him in good stead and I think he's benefited from a number of starts and a lot more game time to show he's a quality player.
Foster felt first five-eighths Richie Mo'unga and fullback Beauden Barrett had been assured.
"When you starting some things off it does take a little while for the instincts to kick in and I think we've seen that in the last couple tests and tonight they were probably forced more into the two pivot role with the conditions.
"In some ways that made it a little bit easier but it's also a result of two or three solid weeks of playing and training together and things started to look a little bit more intuitive so that side of it's good and it was also good when Jordie [Barrett] came on at fullback and I thought he made a massive impact off the bench," he said.