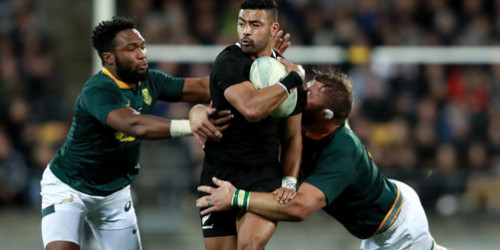 Hansen said the draw was probably a fair result as both sides had played with a lot of pride and passion but not with a lot of accuracy.
---
QUICK TAP: LAST-MINUTE TRY LEADS TO INCONCLUSIVE DRAW
---
"We knew we would be a bit rusty and proud of the effort but we've got a wee bit of work to do," he told Sky Sport.
It had taken time to work out how to cope with the South Africans' aggressive line defence but they had started to get there and he liked the progress the side was making in that regard although it wasn't showing on the scoreboard at the moment.
"But we've just got to be patient," he said.
While the set-piece had generally been good a couple of late scrums had demonstrated that concentration needed to be applied for 80 minutes.
"The defence has been going well. They [South Africa] squeaked a try out there at the end but they had to work hard to get it and good on them for getting it because we didn't give them a soft one.
"When they score like that you've just got to take your hat off to them and say 'well done'.
"We've played two different teams on two consecutive Saturdays with not a lot of preparation time so we know we are going to be rusty, we always are those first couple of the year, certainly I would have liked to have got the win, but we got the next best thing the draw, but there's a bigger plan and we've just got to keep going and working away quietly.
"The biggest disappointment is Brodie [Retallick who left the field after 60 minutes with a shoulder injury] and we'll have to wait and see what happened to him," he said.
Hansen said South Africa had been a good side for a long, long time and during his time as head coach there had only really been one game where the score had blown out and since the Albany game of 2017 that the All Blacks won 57-0 there hadn't been much in it.
"They're right in it and so are we.
"We're not the finished product but we're pretty excited about where we're going," he said.
All Blacks captain Kieran Read said it had been a heck of a Test match and like recent Tests between the two it had gone down to the 80th minute.
He felt privileged to be part of it again.
"It's a funny one when you draw at the end of the game but you've got put a smile on your face at the end of the day," he said.
The first half performance by South Africa had been impressive in applying pressure on the All Blacks who had coughed up a lot of ball and they took their opportunities. But he was happy with their defence that in spite of the possession South Africa enjoyed they did not let them get through.
"These matches come down to little moments and their one just at the end the bounce went their way. That's what happens. We've got to be very happy, the Freedom Cup is very special to us so we hold onto that," he said.
South Africa's captain Duane Vermeulen said it had been a fantastic try by halfback Herschel Jantjies and he had full confidence that goalkicker Handre Pollard would land the equalising conversion.
"We are just happy to end up in a draw and stay in the fight all the way until the end," he said.
They were a young group who were building in confidence and experience and he was very happy with their performance, he said.
The draw was just step on their path to the Rugby World Cup and they would be taking it a step at a time. He thanked his players for their 'fantastic performance' but reminded them they were not there yet.
?? The All Blacks retain the Freedom Cup with a 16-16 draw with South Africa in Wellington.#NZLvRSA #BACKBLACK pic.twitter.com/bVLRGKHWeu— All Blacks (@AllBlacks) July 27, 2019