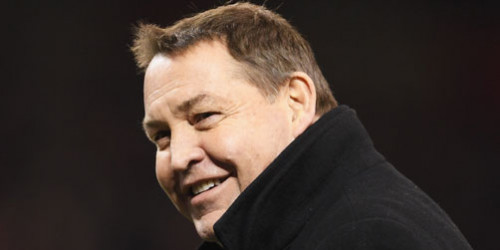 Hansen told BBC Radio 5 Live's Sportsweek programme, "They [England] have some very good players and one of the best coaches in the world. They should have a bit of faith and I'm sure they'll come back.
---
BOOK REVIEW: 2018 NEW ZEALAND RUGBY ALMANACK
---
"Yes they've lost three in a row and that's the reality, but it doesn't make them a poor side and nor does it mean they're in crisis," he said.
The effect of last year's British & Irish Lions tour had impacted on England's season.
"It's always tough after a Lions tour, where they had so many involved and then not having a break when they got back.
"It's something we thought might happen and it's difficult. They'll have an off season and I think the off season will be really important for the English guys. I'm sure they'll sort it out and will be a tough team to beat in November," he said.
England and the All Blacks are due to meet at Twickenham on November 10.
Hansen said Six Nations and Grand Slam winners Ireland had handled their Lions better.
"They've got central contracting which allows them to maybe have a bit more control over playing time and playing welfare than the countries where they don't have that luxury.
"You see the result of that. Guys are coming out and even though they've been on the Lions tour, the same tour that the English boys have been on, they've had the opportunity to rest up and be mentally and emotionally and physically able to go out and play good Test rugby.

MONDAY MEMORIES | Why not kick off your week with a haka!? We take you back to the All Blacks? haka against Australia in Dunedin last year! The All Blacks beat Australia 35-29 with a last minute Beauden Barrett try securing victory! ?????? pic.twitter.com/WudB0sbPEy— All Blacks (@AllBlacks) March 18, 2018
"They're believing in themselves and have a lot of confidence," he said.
The All Blacks face Ireland a week after their game against England in November.
At the same time, Hansen said he wouldn't be in contention to succeed Jones as England manager. Jones recently gained a two-year extension to his England contract which will now end in 2021, although it is dependent on the side's World Cup performance.
Hansen, 58, remains undecided on his future after his contract expires following the Rugby World Cup in Japan next year.
"I can say I won't be coaching England," Hansen said.
"If I was going to stay coaching international rugby then I'd stay coaching the All Blacks. It's a massive time commitment, no matter what team you're with.
"It would have to be right for the family and the team. If it's not right for both those parties, it wouldn't be right for me to go off and coach someone else. I'd rather stay and do it in New Zealand if it was right," he said.
"I don't know what I'll do when the day comes for me to finish, but coaching is in my blood.
"I'll probably be coaching until the day I die. Whether that's in England, we'll have to wait and see," Hansen said.
Congratulations @IrishRugby on your #6Nations victory. See you in November. ?????? pic.twitter.com/gnaJzkghst— All Blacks (@AllBlacks) March 17, 2018