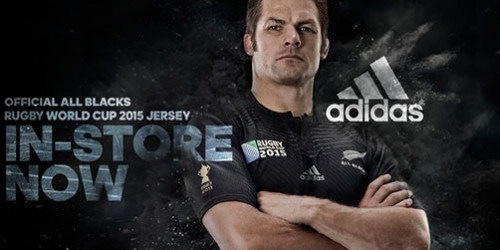 The jersey, unveiled at a function in Auckland, is the most technically advanced All Blacks jersey to date, but has undergone a subtle design change that pays respect to the legendary Originals team, which toured the United Kingdom, France and the USA in 1905-1906, losing just one match on their famous 35-match tour.
A patterned design across the shoulders and chest of the new jersey was inspired by the famous leather yoke which adorned The Originals jersey. The design was developed with input from All Blacks management and senior players.
---
"To wear a jersey with a design that represents the nation's proud rugby heritage and reflects the team's success since 1905 is hugely significant to us." – Richie McCaw
---
Simon Cartwright, Senior Director – adidas Rugby, says: "We wanted to pay respect in some small way to The Originals in the design of the new jersey and acknowledge the century-long success of the team, and we think we have done that with the subtle design around the chest.
"The players were enthusiastic about the design when we discussed it with them. At the end of the day, they're wearing a jersey that represents not only them as players but their country, so they need to be happy with what they wear.
"The Originals were really the first All Blacks team to capture the rugby world's imagination, especially in the United Kingdom, so we think it's fitting that the team is heading back to the UK this year with that on their chest."

As with previous Rugby World Cup jerseys, the RWC trophy is embossed on the right sleeve of the jersey acknowledging the All Blacks' Rugby World Cup successes in 1987 and 2011. Dedicated fans will no doubt also notice the movement of the logos, with the inclusion of the Rugby World Cup 2015 logo on the right, which sees the adidas badge move to the centre of the jersey. The All Blacks silver fern logo remains on the left hand side of the jersey. The adidas and All Blacks logos, as well as the jersey numbers on the back, are a gun metal silver colour.
Gearing up for the #AllBlacks Rugby World Cup Jersey Launch @adidasrugby pic.twitter.com/O1OdC0P277— All Blacks (@AllBlacks) June 30, 2015