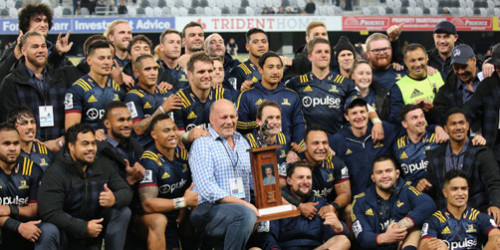 Coach Aaron Mauger, whose side have been on the back of several close losses, said he was 'extremely proud of the resilience and fortitude of our team' not only as a result of the win but over the previous four or five weeks.
---
QUICK TAP: ROAD FAILURES STILL AN ISSUE FOR THE BLUES
---
"It's been challenging but I think tonight's performance is a reflection of how much our boys care about each other and they care about representing the Highlanders," he said.
Concentrating on defending well around the rucks, which they had done well, created opportunities for players out wide.
"I thought the defence was outstanding tonight, they created opportunities for us through our pressure and it's nice to finish a few of them off," he said.
Mauger believed they had missed one or two chances in the first half that might have seen them lead by more than the 7-5 margin they had.
It had been nice to get the outcome in the end but there was still plenty left in the side yet, he said.
A key moment for the side had been the second half scrum that produced a penalty try for them. There had been other critical moments they hadn't nailed but they were happy with large parts of their game, particularly the mental side.
"We're going to need to be better again next week [against the Sunwolves in Japan]," he said.
The defence had been especially impressive in the first quarter when the Blues had mounted full-on attack, also taking advantage of some initial Highlanders lineout wobbles.
"They're a dangerous side the Blues, they've got threats right across the park and I thought the way our boys kept getting up, most of our forwards had made seven or eight tackles each in that first 15 minutes so it was a big shift early on. But when they got an opportunity they caught their breath and managed to impose our game on a good Blues pack," he said.
While they had been able to play at the speed they enjoyed at home, Mauger felt they could have even moved the ball a little more.
"I thought our drivers were very good at putting us in the right part of the field, especially after that first 20 minutes. Kayne Hammington [halfback], I thought he was outstanding tonight, [first five-eighths] Josh Ioane has taken another step forward. [Second five-eighths] Tei Walden is a really key part to our game because he understands the game really well. I thought those three guys in particular really contributed to the opportunities we created," he said.
It's time to pick your Super Rugby form XV of the week! Let us know who was on form in round ?? and you could win a Super Rugby jersey!

GET STARTED ?? https://t.co/8YShltuDVw pic.twitter.com/K3U8OfzwN2— Super Rugby (@SuperRugbyNZ) April 20, 2019